Ericsson feels the squeeze as big customers slash 5G spending
Ericsson CEO Börje Ekholm is known to be a fan of ice hockey, where players are routinely pulverized against the sideboards and whacked with sticks. It seems fitting given the share of painful blows that his own company has suffered in the last year. From US fines over a bribery scandal in Iraq to write-downs at its loss-making cloud business, Ericsson has had to absorb the knocks and keep skating. But some damage was visible in the results it published today.
The good news is that Ericsson, outside China, remains the company to beat in 5G. Its share of the market for radio access networks (RANs) appears to have increased several years in a row – from 33% in 2017 to 39% now – and Ericsson is healthily profitable, which could not be said when Ekholm took charge in 2017. Boosted by recent takeover activity and a major licensing deal with Apple, its headline sales for the final quarter of 2022 were up 21%, to 86 billion Swedish kronor (US$8.4 billion), compared with the same period a year before.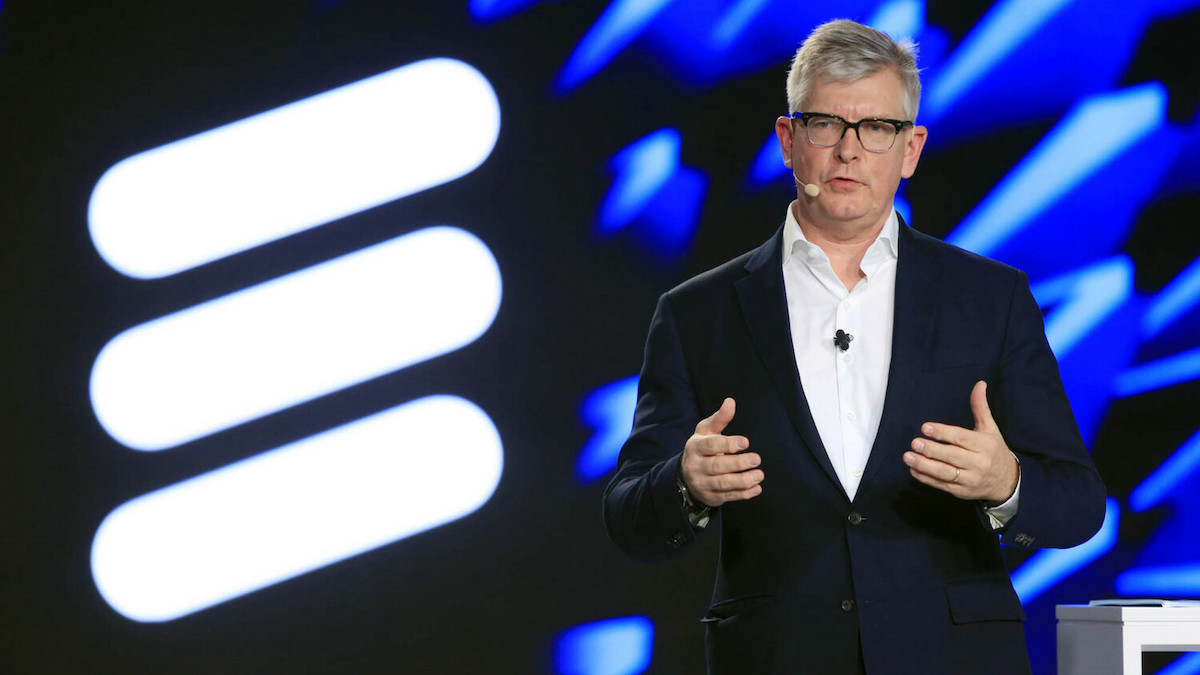 But Ericsson also experienced one of its biggest profit slumps since the first half of Ekholm's tenure. Hurt by higher costs and SEK4 billion ($390 million) worth of one-off charges – relating to US fines, write-downs and divestiture – its net income dropped by 39%, to SEK6.2 billion ($600 billion). Worse, all the various profit margins thinned, with Ericsson's closely monitored EBIT (earnings before interest and tax) margin shrinking to just 9.1%, from 16.1% a year earlier. And the outlook is frosty.
The mini-boom in 5G spending appears to be over – temporarily, at least. Last year, the market for RAN products, where Ericsson now generates about 70% of its revenues, grew by around 5%, according to data from Dell'Oro, a market research firm that Ericsson uses. This year, RAN market sales are expected to fall by 1%. And in North America, responsible for nearly 30% of Ericsson's overall revenues, Dell'Oro predicts they will drop by a worrying 7%.
Tightening the purse strings

The explanation for that was summarized by Ekholm on his quarterly call with analysts earlier today. After investing heavily in network rollouts during the last couple of years, many operators are cutting their expenditure amid signs of an economic downturn, and reducing the equipment stockpiles they built up when supplies were tight. "We expect operators to adjust inventory levels as the supply situation eases and we plan for these trends to continue during the first half of 2023," said Ekholm.
On a like-for-like basis, then, full-year sales inched up only 1% year-on-year in the quarter. Margins suffered partly because of new business in markets such as India, with projects initially featuring a bigger share of margin-dilutive services work than they do in their later stages. The message is that 2023 represents a valley the industry must cross before it begins climbing once again.
"The first half is really where we'll see the sizeable inventory adjustments," said Ekholm, answering questions asked by analysts. "Operators can sweat assets for a couple of quarters but it cannot be done much more [than that] because of the traffic growth underneath. That is the way to model it." Ericsson's expectation is that total mobile data traffic worldwide will grow by a factor of five between 2022 and 2028.
Yet the reaction to the results and the outlook was not what Ericsson would have wanted. Its share price fell 8% when the market opened today in Stockholm and is now 43% lower than it was this time last year after some lurches and stumbles in 2022. Given the Dell'Oro outlook, any real sales growth may have to come through continued gains in market share. But after recent wins in India, Fredrik Jejdling, the head of its networks division, remains confident. "We plan to increase by one percentage point per year, but it is based on an ability to be competitive in the market," he told Light Reading.
Cloudy prospects

Much bigger question marks hang over Ericsson's various other units. It has exited a few "subscale" agreements at its ailing cloud software and services unit in a bid to restore profitability, and it is now guiding for breakeven at that business this year. But it recorded a SEK700 million ($68 million) loss for the recent fourth quarter, compared with a SEK600 million ($58 million) one a year earlier, despite 13% growth in sales to SEK20.2 billion ($2 billion).
Similarly, the new-look enterprise division reported a loss of SEK2.9 billion ($280 million), compared with SEK800 million ($78 million) a year earlier, even though sales rocketed 265%, to SEK6.6 billion ($640 million) on the takeover of Vonage, a move that many analysts regard with skepticism. Ericsson blamed losses partly on the sale of the company's IoT business to Aeris in December, but the decision to cut that loose will hardly reassure investors worried about Ericsson's ability to diversify beyond its core networks business. Vonage, insists Ekholm, will support Ericsson's future metamorphosis into a software platform provider. Parts of the industry still need persuading.
---
Want to know more about 5G? Check out our dedicated 5G content channel here on Light Reading.
---
Unsurprisingly, restructuring remains on the cards, with Ericsson now trying to slash costs by SEK9 billion ($870 million). It raises the specter of job cuts at the Swedish organization, whose workforce had swelled to include 105,529 people at the end of December, compared with fewer than 95,400 at the end of 2018, after an epic round of cuts. Ericsson, however, had been a loss-making company before that shakeout, and one that subsequently had a narrower focus. As it tries to make a success of Vonage, and deal with inflationary pressure, reducing cost of sales will be a priority this time round, said Jejdling.
Given the market slowdown, turbulence of the last year and seemingly endless difficulties at smaller units, it is easy to forget that Ericsson remains a solid and successful business. But it has become more reliant on RAN sales under Ekholm – generating more than 70% of its revenues in that market last year, compared with just 47% in 2016. Ekholm clearly restored Ericsson's reputation as a RAN provider. Amid the slowdown in that sector, his big challenge now is to prove it can thrive elsewhere.
Related posts:
— Iain Morris, International Editor, Light Reading
Like what we have to say? Click here to sign up to our daily newsletter
One of America's most loved telecoms get-togethers, The BIG 5G Event, will be returning to Austin in 2023 to host 1,500+ telecom, cloud and technology professionals — and we want you to be a part of it!
For three days, you can meet and network with leaders from every part of the North American 5G ecosystem and hear from over 150 speakers on the hottest industry topics. To apply for your complimentary pass to the event, visit this link.
PARTNER PERSPECTIVES
- content from our sponsors