 9:15 AM -- So, which U.S. 4G carrier should you plunk your hard-earned cash down with for a shiny new Apple Inc. (Nasdaq: AAPL) iPhone 5 come September 21? (See iPhone 5 Arrives With 4G LTE.)

Purely on 4G LTE coverage, it seems like Verizon Wireless easily beats rival operators, AT&T Inc. (NYSE: T) and Sprint Corp. (NYSE: S). Here's how the numbers line up right now:

Table 1: How the LTE Operators Stack Up

*Sprint has only said so far that new cities will be deployed in the "coming months" without giving a definite time-scale.




To compete with Verizon, AT&T and Sprint are trying to deploy Long Term Evolution (LTE) in major metro areas fast. One thing to consider, however -- Sprint's latest LTE deployment update still doesn't list any cities in either New Jersey or the Bay Area. (See Sprint: LTE in 100 Cities in the 'Coming Months'.)

Then you should consider whether you want to get unlimited data or have access to a shared plan for your family. AT&T and Verizon both offer shared plans with data caps for multiple devices. Sprint is the only operator to offer an unlimited plan. (See AT&T Joins Verizon in the Shared Data Pool.) That is not, however, the end of the story. Check out the technical details from Apple's LTE support page: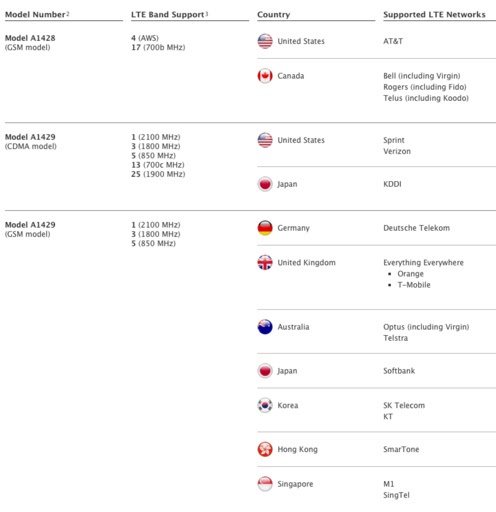 As you can see, AT&T's phone supports 4G roaming over the Canadian border with a few different operators. The Verizon and Sprint CDMA version can work on LTE with KDDI Corp. in Japan.

AT&T users can also revert to its 21Mbit/s high-speed packet access-plus 3G network, which averages out at 2 Mbit/s to 5 Mbit/s on downloads, when not in range of LTE. Sprint and Verizon users will revert to 3G CDMA connections that barely top 1 Mbit/s when not on 4G. (See What We Mean When We Say '4G'.)

So, here's the breakdown as I see it now:

AT&T's iPhone 5
Do pick: If decent 3G speed when outside of LTE coverage is important to you.
Don't pick: If Web surfing on 4G in Canada is too cold to contemplate most of the year.

Sprint's iPhone 5
Do pick: If unlimited data is what you crave the most.
Don't pick: If you live in the Bay Area or New Jersey, as it could be a while before LTE actually arrives.

Verizon's iPhone 5
Do pick: If you travel widely in the U.S. and need at least a chance of a fast 4G LTE connection outside of major urban areas.
Don't pick: If you've never been big in Japan.

Oh yeah, one last thing: Don't expect the 100Mbit/s download speeds on LTE that Apple promises in its tech specs on the iPhone 5.

That's all "based on theoretical peak speeds," the company says in the small print. "Actual speeds will be lower."

— Dan Jones, Site Editor, Light Reading Mobile


Subscribe and receive the latest news from the industry.
Join 62,000+ members. Yes it's completely free.
You May Also Like
---