Also in today's EMEA regional roundup: Telenor Sweden CEO moves on; Eutelsat flips on Inmarsat bid; TIM board backs Genish; Fastweb gets flexible with Huawei.
Football is deflating… or at least the price of it is. The downward trend in what telcos and broadcasters must pay for soccer rights continues with the news that Telefónica has "provisionally" bagged the rights to Spain's La Liga matches for the 2019-2022 seasons for 5% less than it cost last time around, paying €980 million (US$1.14 billion) for each season's coverage. Earlier this year, the amount that Sky and BT bid for the rights to the English Premier League soccer packages fell for the first time, from £5.1 billion (US$7 billion) in 2015 to £4.4 billion ($6.1 billion) this time around.
Patrik Hofbauer is to step down as CEO of Telenor Sweden, to take up a new role with another (as yet unspecified) company. He will leave at the end of the year, or until a new CEO has been appointed, whichever comes first.
France's Eutelsat Communications S.A. has performed a volte-face on Inmarsat plc (London: ISAT), ruling out a bid for its UK satellite rival less than a day after it let it be known it was considering making an offer. As the Financial Times reports (subscription required), such a bid, if it had gone ahead, could well have run into the sand anyway, given the uncertainty of a post-Brexit Britain having access to Europe's Galileo satellite navigation system.
Telecom Italia (TIM) 's board of directors has given its backing to CEO Amos Genish after he expressed his regret over critical comments he made about some of them. In a statement, the company said: "The Board confirms that its members share a common vision and objectives for TIM, and continue to support the management team." According to Mobile World Live, last week Wall Street Italia reported that Genish had accused some of the board members of interfering with the work of management and spreading false rumors. (See Telecom Italia Names Genish CEO After Boardroom Battle and Telecom Italia Molders as Shareholders Feud.)
With the help of Huawei Technologies Co. Ltd , Italian broadband provider Fastweb SpA (Milan: FWB) has completed what the pair call the first "flexible next-generation optical network," running for 2,300km between Milan and the south of Sicily. The network provides 200Gbit/s capabilities and employs Automatically Switched Optical Network (ASON) technology, which allows Fastweb to quickly re-route data traffic in case of temporary interruption.
Dutch provider Trent has deployed ADVA Optical Networking 's ALM fiber monitoring technology across its dark fiber network. ADVA partner TrueCom also played a part in the project.
While Eurobites Towers generally throbs to the sound of death metal, with the occasional dash of doo-wop thrown in for light relief, it is open to other musical experiences, as long as they don't involve Ed Sheeran. So it was pleased to hear that Ericsson AB (Nasdaq: ERIC) has used 5G to power two simultaneous performances of Ali Hossaini's Epiphany, one in the 2,000 year-old Roman Amphitheatre in London's Guildhall Complex and one in the Brandenburg Gate Museum in Berlin. Via the magic of 5G-grade data transmission, one conductor, Peter Wiegold, conducted two ensembles, one in each venue. Bangin'!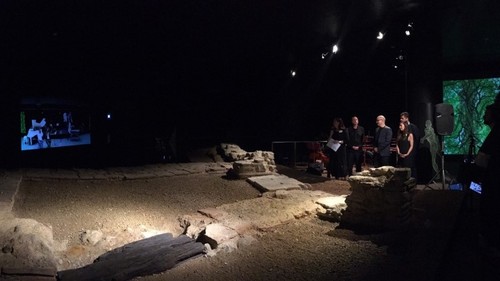 — Paul Rainford, Assistant Editor, Europe, Light Reading