Charter could 'move on' without ESPN and Disney if blackout lingers
Charter could 'move on' without ESPN and Disney if blackout lingers
'We're on the edge of a precipice. We're either moving forward with a new collaborative video model or we're moving on,' Charter CEO Chris Winfrey said of a dispute that has major ramifications for the industry.
(Source: Michael Zech/Alamy Stock Photo)
Charter Communications is preparing to go on without ESPN and other popular networks in the Disney content stable on a permanent basis and explore alternative video sources for its customers if the cable operator's carriage dispute with The Walt Disney Company doesn't get resolved quickly.
"I'm optimistic we can find a path forward with Disney. But we need to move quickly forward together or move on," Charter Communications CEO Chris Winfrey said Friday on a call with reporters and analysts that stated Charter's case in the dispute with Disney.
How this impasse shakes out is critical for Charter, an operator with about 14 million residential pay-TV subscribers, but could also have major ramifications for the broader video industry as distribution deals Disney has with other major operators run their course.
Moving on, in this case, could mean Charter pushes ahead without Disney content permanently and instead looks to other platforms, such as Apple TV, Roku and Xumo (the new Charter-Comcast national streaming joint venture) to build new general entertainment packages that provide more flexibility to consumers, including a la carte access.
Charter hosted Friday's call the day after nearly 20 Disney channels, including ABC, ESPN and FX, were pulled from Charter as the sides were unable to strike a new distribution deal. Those networks went dark at a critical time for sports fans amid the US Open tennis tournament, the start of the college football season and about a week before the kickoff of the NFL's regular season.
Charter claims in part that Disney wants a deal that would require the operator to pay license fees even for customers who do not receive Disney content while also putting more restrictions on Charter's ability to create more flexible programming packaging. That, Charter, argued, would lead to more consumer price increases. Disney, meanwhile, has issued statements that it has been successful in cutting deals with other pay-TV providers with rates and terms that "are driven by the marketplace."
Charter said Disney rejected an offer of a short deal extension that would provide some incremental relief on penetration minimums and allow Charter to continue to provide flexible options for customers. Charter said it had expected to pay Disney more than $2.2 billion for the right to carry its content, a figure that does not include the impact of advertising to either side.
'Video ecosystem is broken'
Winfrey reasoned that the failure of industry efforts such as TV Everywhere paired with the rise of streaming, DTC subscription services and the use of password-sharing have played significant roles in the cannibalization of the traditional multichannel TV industry. Charter illustrated its view in this slide: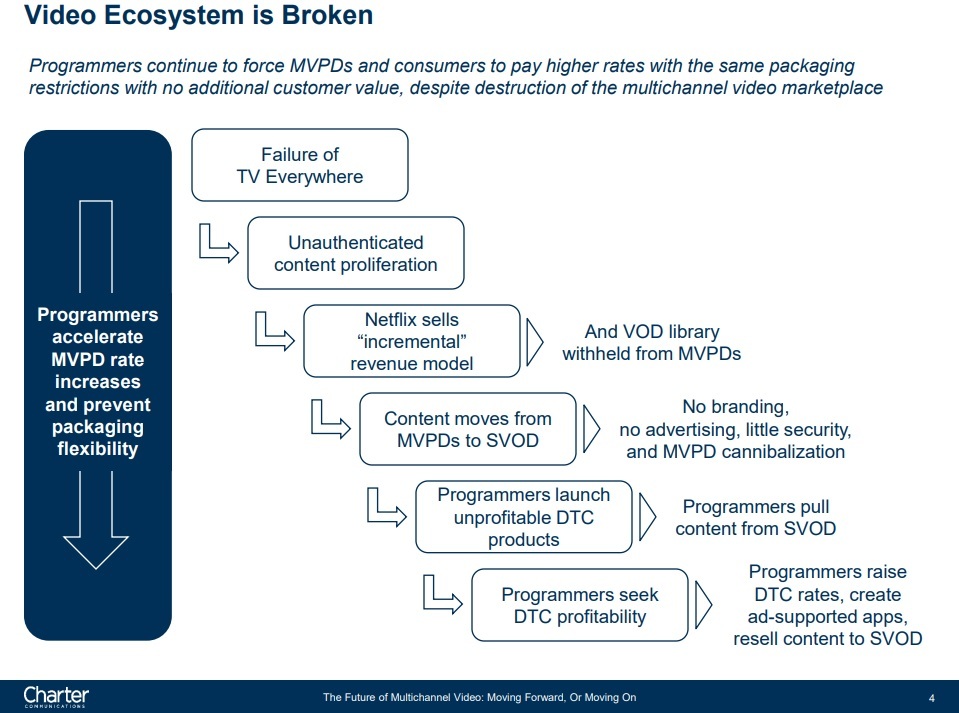 Click here for a larger version of this image.
(Source: Charter investor slide presentation; September 1, 2023)
Winfrey said Charter, currently the second largest pay-TV operator behind Comcast, has been forced to make a stand against Disney as the programmer looks to raise prices and force customers to get channels they don't watch or can't afford while also asking Charter to require its customers to pay for direct-to-consumer (DTC) apps that traditional linear fees already pay for.
"We respect the quality product that Disney produces and its management team, but the video ecosystem is broken," Winfrey said. "We're on the edge of a precipice. We're either moving forward with a new collaborative video model or we're moving on."
Charter, he said, has proposed a "better path" forward in a way that aims to stabilize Charter's video business while also helping Disney retain its traditional pay-TV business and enabling Disney to grow its streaming business incrementally. Charter's hybrid proposal, which envisions the ad-supported versions of Disney apps such as Disney+ becoming part of Charter's pay-TV bundle, also emerges as Disney pursues a plan to someday sell ESPN under a direct-to-consumer model.
"We offered Disney something different – the opportunity to create a partnership that we believe could transform the industry and help restore our mutual video businesses to growth," Winfrey said.
"We believe Charter and Disney are ideal partners to establish a hybrid linear TV and direct-to-consumer model," noted Rich DiGeronimo, Charter's president of product and technology.
Charter said Disney has rebuffed its offer to establish a "transformative" hybrid model that could serve as a blueprint for other programmers and distributors to follow.
Winfrey said Charter's proposal did not include trying to push ESPN into a new, more flexible model that Charter has developed for regional sports networks or implementing some type of a la carte model for ESPN.
"I would love that. I think that would be very constructive for consumers," Winfrey said. "But we knew that was a stretch too far. We never put something like that on the table."
'Not a classic carriage dispute'
It's too early to say how a prolonged Disney blackout will impact Charter.
Charter CFO Jessica Fischer acknowledged that a lengthy blackout would cause a more rapid deterioration of the company's video business, increase the "likelihood of a permanent drop" and possibly cause Charter to "pivot to other video models."
"This is not a classic carriage dispute," she said.
But Charter expects that most Disney fans who might cancel pay-TV would retain a relationship with Charter. Still, there are concerns that the carriage dispute with Disney could have a negative impact on Charter's broadband business.
Possible tipping point for video industry
The Charter-Disney dispute has the makings of a "tipping point" for the video industry, New Street Research analyst Jonathan Chaplin explained in a research note issued Friday. "It will be the biggest test the balance of power has faced so far."
He said Disney programming being pulled from Charter will of course be annoying for Charter customers, but reckons that most will figure out how to get that content from another source.
"There is a chance that Charter discovers the customer wrath from lost ESPN content is too much to bear, and they go back to Disney, hat-in-hand, asking for the deal Disney had offered. Disney's negotiation leverage will be reestablished for all future content negotiations with distributors," Chaplin wrote.
Related posts:

— Jeff Baumgartner, Senior Editor, Light Reading
Subscribe and receive the latest news from the industry.
Join 62,000+ members. Yes it's completely free.
You May Also Like
---