For the past couple of weeks, I've been testing Vodafone's new 5G network in London. My aim was to see how it compares to 4G service -- I'm a long-time Vodafone subscriber -- and to get a feel for the experience end-users can expect from 5G as coverage is deployed more widely and densely. A secondary aim was to learn what Vodafone's deployment can tell us about mid-band 5G.

Vodafone's 5G network uses 40MHz of 3.5GHz TDD spectrum in combination with LTE spectrum -- typically three or four 20MHz FDD carriers -- to create what's called a non-standalone 5G network. Peak performance is therefore determined by the aggregate amount of LTE and NR spectrum deployed in any given site cluster.

As with its mid-band peers in UK, and the rest of the world, most of the operator's 5G sites are deployed on the pre-existing LTE grid. Nearly all the sites I came across were rooftop deployments. In London, as far as I know, the majority of Vodafone's 5G sites use 64T64R massive MIMO antenna from Ericsson (which also supplies Vodafone's LTE RAN in London).

So, what is the service like to use? And what kind of data rates does the network deliver in the downlink?

In short, where you have 5G signal, the service is good, and occasionally excellent.

After a bit of searching, I achieved my fastest ever speed on a UK 5G network at 770Mbit/s downlink. This was recorded across the street from a Vodafone office building, with rooftop mast, where I'm told some of the UK network team spend their days. In other words, this is the performance you get in more or less ideal conditions at a flagship site.

For evidence, here are the screenshots from the Fast speed test app and the site and device location as shown by the CellMapper app: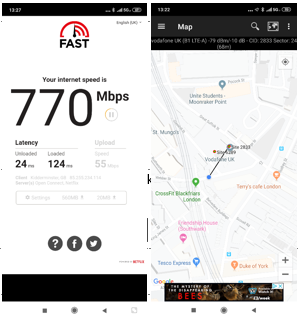 And for context, here are a couple of photos of the site itself taken from the test location: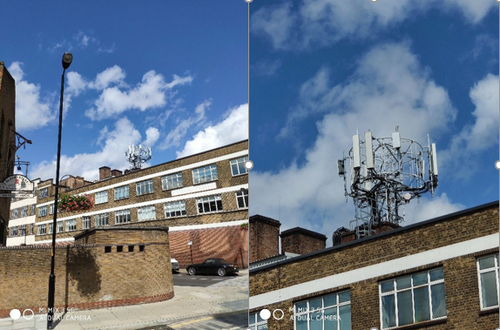 Much more often downlink speeds are in the 300-400Mbit/s range where there is good 5G signal. And most often the Vodafone network delivered between 100-200 Mbit/s downlink when the phone was showing a 5G icon (i.e. outdoors at street level in non-line-of-sight conditions).
One of the challenges Vodafone has in differentiating 5G in London is that it has an excellent LTE network. At my desk at my home office in London (Zone 2), for example, I get comfortably get >150 Mbit/s downlink on LTE, and speeds in the region of 100 Mbit/s are becoming commonplace across the city, if not yet ubiquitous.
Vodafone's 5G coverage is, I'm afraid to say, pretty poor around London. Spending a few days visiting some of the busiest areas of London with guests from out of town, without making a special effort I struggled to get more than a fleeting connection to 5G. This is, I think, because not many sites are deployed (Vodafone UK isn't giving any 5G site numbers, at all) and partly because 3.5GHz doesn't propagate as well as the lower bands used for LTE (even using massive MIMO). I also suspect it's partly due to the way Vodafone has configured the network to allow the phone to only show the 5G icon when you actually have a decent 5G signal.
However, where Vodafone has deployed coverage, it has done a really good job. Rather than install 5G in "pepper pot" fashion at its busiest sites, it instead appears to have deployed 5G in site clusters that give you more or less contiguous service across the coverage area -- i.e. without dropping back to LTE too often. As a user, I like this approach. And as a reviewer and analyst I like it because it starts to hint at what it will be like to have 5G everywhere. 5G is good, we just need lots more of it.
A couple of notes on the review: I tested the network using a Xiaomi MIX 5G phone provided free of charge by Vodafone analyst relations for a short review period. Vodafone placed no restrictions on use of the service or on what I could report. The company did provide a list of locations where I could be sure to find 5G, which came in handy. The Xiaomi MIX 5G device itself is pretty good, although a little hampered, in my eyes, by the Xiaomi Android skin. There's nothing wrong with it per se -- and it actually has a few touches I quite like -- but I'm a pure Android kind of customer.
Speaking of customers, it is also worth noting that Vodafone introduced unlimited data plans when it launched 5G. This is a big shift for "premium" UK mobile brand and has already sparked a response from competitors. The top-end package of unlimited data, with no speed limits, is available for £30 ($36) per month SIM-only. If you're a heavy user, that's a great deal on a very good network.
— Gabriel Brown, Principal Analyst, Mobile Networks and 5G, Heavy Reading