The FCC may be poised to basically gut many of the provisions of the 1996 Telecommunications Act, the landmark legislation that unleashed competition in the telecom space more than two decades ago, now that large incumbents are pushing a compromise plan that delays the action.
Incumbent telcos, led by their trade association United States Telecom Association (USTelecom) , asked the Federal Communications Commission (FCC) in May to dispense with rules that require them to resell their last-mile connections to customers to competitive carriers as unbundled network elements (UNEs) at prescribed wholesale rates, claiming competition is well established already. It was the access to these UNEs and the guarantee of cost-effective connectivity that spurred the telecom boom in the late '90s, with an explosion of fiber network construction. (See Telcos Push to End the Great Unbundling.)
That was, of course, followed by the telecom bust in the early 2000s, which not only brought down many a competitive carrier but also some of the vendors that had financed sales of their own gear to these nascent players. Today's landscape looks remarkably different, especially because many of the stronger CLECs that survived the shakeout have now been acquired by incumbents: Level 3 Communications and tw telecom are now part of CenturyLink Inc. (NYSE: CTL) and XO Communications is now part of Verizon Communications Inc. (NYSE: VZ).
The biggest competition that telecom incumbents face today in the business sector comes from the cable industry, which has jumped in with both feet, snagging first small to midsized businesses and now beginning to move on the larger companies as well.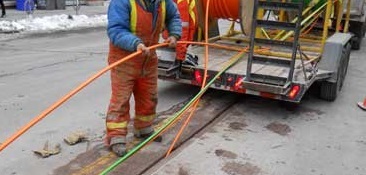 Competitive operators that remain, such as broadband ISPs, are urging the FCC to reject the incumbents' push to eliminate regulations that require UNE sales and keep prices from rising. This week, leaders of six smaller ISPs met in Washington with FCC Chairman Ajit Pai and Commissioners Michael O'Rielly and Brendan Carr to make the case that rolling back rules that enable competition will hurt them, their customers and consumers in general. The companies represented included IdeaTek Telecom, Sonic Telecommunications, Socket Telecom, Mammoth Networks, First Communications and Access One, according to Incompas , the trade association for the competitive industry, which also participated in the talks.
According to Incompas, these companies are arguing that losing access to UNEs in areas served by incumbents will make their businesses weaker and less able to serve the rural communities where many of them are the only provider. In addition, the companies point out that it is the presence of competition that often spurs incumbents to offer better and less expensive services to their customers.
"A number of them are serving rural areas where there is no other broadband provider (or only one other provider) and bringing high-paying, skilled jobs to these rural communities," according to an Incompas ex parte filing. "They also have a presence in urban areas (including the many underserved urban areas) where they provide more cost effective, customized, and innovative services than those offered by the incumbent and cable companies (where present). They pointed out that once they enter a market, the incumbent often responds with the deployment of fiber or a more innovative offering, demonstrating the impact competition has on catalyzing prompt broadband deployment."
Their battle is a bit more of an uphill struggle now, however, after a compromise worked out last week by the larger incumbents within US Telecom -- AT&T, CenturyLink, Verizon -- and Windstream Communications Inc. (Nasdaq: WIN), a company that is also an incumbent provider but a heavy user of UNEs outside its footprint.
Windstream had sided with Incompas in its opposition to USTelecom's initial proposal, made in May, which would have immediately raised UNE prices and then phased out resale over the next 18 months. But as Windstream President and CEO Tony Thomas said last week, the two sides worked out a deal to delay any price increase and extend the transition period until February 4, 2021.
Admitting the deal "isn't perfect," Thomas said it nonetheless gives competitors more time to react.
"Windstream will work diligently with our customers to minimize the impact of any price increase following the transition period and help them migrate from legacy communications products to next-generation services on their terms and at the cadence that makes sense for their businesses," he wrote.
---
Now entering its second decade, the Future of Cable Business Services event is the premier independent conference focusing on the cable industry's continuing efforts in the commercial services market. Join us on November 15 in New York – all cable operators and other communications service providers get in free!
---
The decision for Pai & company will now be to determine if the current telecom market is competitive enough to make the resale rules unnecessary, or if some version needs to remain. The FCC already allowed incumbents who install fiber connections to stop reselling basic voice lines on a wholesale basis, and Incompas is arguing that more fiber construction is the path for incumbents to escape regulations.
USTelecom says, however, that eliminating the resale requirements will spur more than $1.8 billion in additional new investment by incumbents and $1 billion in savings by consumers over the next ten years as a result. In its filing, the organization also points out that the wireline voice market is rapidly shifting to wireless, and that a significant portion of the business market is within reach of competitive fiber facilities today.
The USTelecom filing also points out that the number of UNE loops fell from just under four million in 2008 to just over two million in 2016, according to the FCC's own data. That data also showed that at the end of 2016, non-ILECs used UNE loops for fewer than 4% of their end-user switched access lines.
Given how aggressively Pai has moved to eliminate regulations and his assessment of the competitive market where business data services are concerned, the FCC he leads seems more likely to come down on the side of the incumbents, especially with the longer transition period built into the latest proposal. (See Pai's FCC Makes Access Regs Flip-Flop.)
— Carol Wilson, Editor-at-Large, Light Reading