Moto's Media Monster
10:40 AM -- Billed as a "Media Monster" by CEO Ed Zander,
Motorola Inc.
(NYSE: MOT)'s new Z8 slider phone was first unveiled at the 3GSM tradeshow back in February. When it launched commercially in the U.K. this summer we took it for a test drive.
There are two main reasons to like the Z8: The "kick-slider" action and the neon-green trim.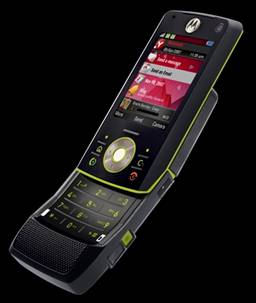 There's also some grunt under the hood. With 3.6-Mbit/s 3G connectivity, downloads and mobile TV streaming are painfree. Mercifully, Moto used high-spec memory and processors to ensure the device doesn't hang or crash -- a refreshing change from the underpowered 3G devices
Nokia Corp.
(NYSE: NOK) has inflicted on the world.
A full-length version of
The Bourne Identity
, stored on a removable memory card, ships with the phone. A nice touch and, I guess, the source of the "Media Monster" pitch.
Web browsing is a struggle. It comes with a version of the
Opera Software ASA
mobile browser pre-installed, so you can view "real" Web pages reformatted for a small screen. I didn't like it much and couldn't figure how to get a basic WAP browser running or install the superior
Opera Mini
.
For some reason, I couldn't install
any
Java apps, not even
Google
(Nasdaq: GOOG) maps. Even though the Z8 is based on the
Symbian Ltd.
OS, none of my usual apps worked, and so I gave up on it.
All About Symbian
covers this in depth
here
.
This really highlights Motorola's challenge in high-end phones: software.
Until Moto can settle on a software platform and get a developer ecosystem cranking out applications, it'll struggle to attract and retain customers in the high-end segment.
Final verdict: Love the neon, love the high-speed 3G, but just not functional enough for everyday use.
— Gabriel Brown, Chief Analyst,
Unstrung Insider