SAN FRANCISCO -- Mobile World Congress Americas 2017 -- Sprint executives said Tuesday that the operator will start to deploy new "massive MIMO" antennas next year, which could greatly boost network capacity -- in selected areas -- and is considered by the operator as a milestone on its journey to 5G.
Sprint Corp. (NYSE: S) will use 128 element antennas -- that's 64 transmit and receive elements (64T64R) -- from Ericsson AB (Nasdaq: ERIC) for the upgrades. It recently tested and deployed the systems in Seattle, and Ericssson is gearing up for production antennas.
"2.5 [GHz spectrum] actually allows us to introduce massive MIMO early," said Sprint CTO John Saw. This is because it is easier to shrink antennas that use higher frequencies, 2.5GHz versus 700MHz for instance, so the Ericsson antenna is not much larger than a standard cell-site antenna, Sprint notes.
See this video from Sprint on the Seattle field trial:
...and this from MWC Americas:
---
Want to learn more about Gigabit LTE? Join us for our FREE LTE Advanced Pro and Gigabit LTE: The Path to 5G breakfast event taking place at Mobile World Congress Americas on September 13 at the San Francisco Marriott Marquis, Moscone Center in San Francisco. Register today!
---
Light Reading predicted earlier this year that Sprint was likely to be the first US operator to move to 64T64R antennas. Sprint parent SoftBank Corp, meanwhile, started deploying 128-element MIMO systems in Toyko late last year. (See Sprint to Be 1st in US With Massive MIMO?)
Why is massive MIMO so important to Sprint? Despite peaks exceeding 1,000 Mbit/s in the demo at MWC, Sprint's technology COO, Günther Ottendorfer, stresses that the upgrade is more about "capacity" rather than sheer "peak speeds."
"We can raise all boats," Ottendorfer said.
This is because the antennas can increase network capacity four to ten times, but unlike many other LTE-Advanced and Gigabit LTE upgrades, they don't require upgraded hardware and software on the phone to take advantage of the capacity boost. Saw says the antennas will work with any of the 2.5GHz-compatible smartphones Sprint has sold since 2010.
The Ericsson AIR6468 supports horizontal and vertical beamforming as part of the design. So Sprint will be able to support "multiple users with different beams," Saw said.
This will result in "faster downloads in more densely populated areas," Saw added.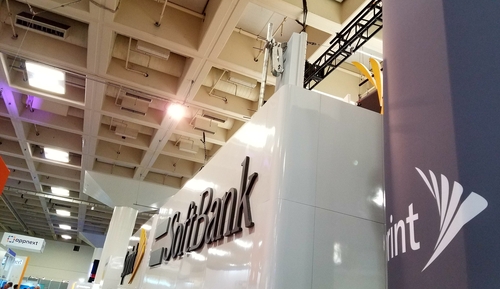 Sprint is looking at where it makes sense to deploy the new antenna tech -- likely high-traffic areas in big cities. Ericsson describes the replacement as "plug-and-play," but the operator will still need to get permits and deal with the associated local government paperwork.
None of the Sprint executives gave much detail about how the antenna deployments might affect future capital expenditure.
One major benefit for Sprint is that it can use the same antennas for 5G as that fundamental update arrives. "We could start rolling out NR [5G] radios in the second half of 2019," Saw said.
Saw notes that the 5G New Radio specs are "still being finalized." They are expected to be done in December.
Nonetheless, Sprint is now working with Qualcomm on an NR chipset that supports Sprint's preferred 2.5GHz (band 41) frequency for 5G.
— Dan Jones, Mobile Editor, Light Reading