LinkNYC Kiosks Could Become a Launch Pad for City 5G

Comment (0)
Is this the future home for 5G connectivity in cities like New York?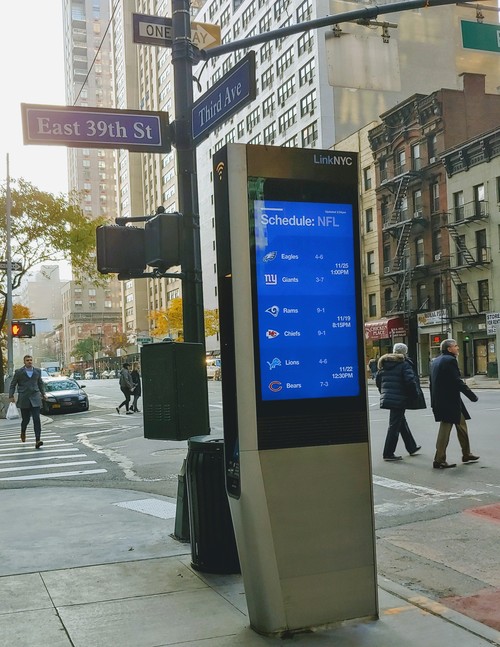 It could be, as the president of Link explained at last Thursday's Future of Cable Business Services event in midtown Manhattan. Talking to Light Reading after her appearance, she explained that the company is well aware of the possibility of using its public WiFi kiosks as street mountings for 5G small cells or repeaters. (See Bright Lights, Smart City: A 'Street Furniture' Exploration.)
Jen Hensley, president of LinkNYC, describes the kiosks as "an endpoint that is going to be increasingly valuable over time," with 5G deployments a definite possibility in the future. The company is already talking with partners about the 5G prospects, she said. "We've been at it a couple of years," she noted.
Questions about who would control any 5G small cells are still in play, while the city of New York would still have design rights over the "street furniture" to be deployed on the nine-and-a-half-foot tall kiosks.
Nonetheless, using the LinkNYC kiosks as 5G hosts would make sense for deployments in dense urban locales such as Manhattan. Each kiosk is served via a gigabit fiber connection already and the small cell could be powered at the source.
The kiosks could help address the range limitations of high-band 28GHz millimeter 5G, which operators have been testing at ranges of 1,000 to 2,000 feet for gigabit connectivity. (See 5G: The Density Question .)
In areas like midtown Manhattan, operators already use the kiosks to deploy at every block in many areas. LinkNYC is currently due to roll out 7,500 kiosks across the five boroughs, about five times the number deployed so far.

LinkNYC is backed by Google (Nasdaq: GOOG)'s Intersection unit, Qualcomm Inc. (Nasdaq: QCOM) and QMX Smartscapes. Qualcomm has already announced plans to make mmWave small cell chipsets, expected to be available in commercial devices sometime around late 2020. (See Qualcomm & Samsung to Work on 5G Small Cells and Qualcomm Spills LinkNYC's Guts.).)
Link is also expanding its footprint. As well as NYC, the operation is deploying kiosks in parts of Newark, NJ, and elsewhere. "We've just started in Philly," Hensley noted. It also has 300 units deployed in the UK as LinkLondon. (See LinkNYC Now Live in All 5 Boroughs.)
— Dan Jones, Mobile Editor, Light Reading
PARTNER PERSPECTIVES
- content from our sponsors
GUEST PERSPECTIVES
- curated contributions