5:10 PM -- Engineers and other cable execs at the CableLabs Summer Conference "Innovation Showcase" gave the vote to BelAir Networks Inc. 's strand-mounted WiFi/3G picocell, apparently wooed by the potential business opportunities that the product opens up

BelAir launched the product, the 100SP Strand Picocell, today, using this week's largely press-free CableLabs confab in Keystone, Colo., as the springboard. MSO conference attendees picked it as the best new product idea that's likely to succeed. (See BelAir Pitches Wi-Fi/3G Picocell At Cable .)

Dave Park, BelAir's VP of product marketing, said the cable-optimized, capacity-boosting picocells, which are smaller and installed lower to the ground than complementary macrocells, can help MSOs drive more revenues from their traditional cell backhaul efforts and give them the ability to offer leased mobile broadband services using unlicensed WiFi or their own licensed 3G spectrum. Using the picocell as an "offload tool" for WiFi and 3G traffic is yet another option.

Park said the new picocell will later be upgraded to support 4G WiMax or Long Term Evolution (LTE) as well.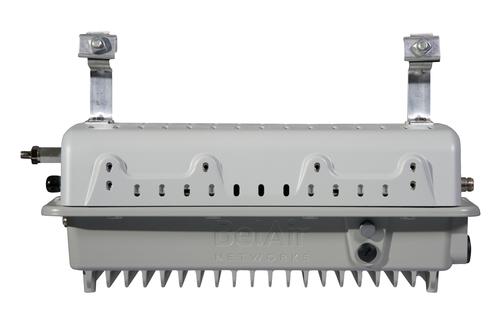 "We all feel the pain that BelAir is looking to help solve," said Mark Coblitz, SVP of strategic planning, Comcast Corp. (Nasdaq: CMCSA, CMCSK), noting that the MSO is already using BelAir gear to offer WiFi access in some areas. "To be able to add the licensed spectrum to it is a real business opportunity." (See MSO WiFi: Roam (If You Want To).)

BelAir, which counts Comcast Interactive Capital as an investor, got the vote over 11 other vendors that presented during the showcase's "lightening round."

Among common themes, demos tended to center on how cable services could be extended to iPads and other devices using IP technology via bona-fide products or prototypes from the likes of Panasonic Corp. (NYSE: PC), BigBand Networks Inc. (Nasdaq: BBND), Pace plc , Netgear Inc. (Nasdaq: NTGR), and ActiveVideo , among others.

CableLabs runs these showcases during its biannual conferences. Here's our coverage of a few recent, past winners:



— Jeff Baumgartner, Site Editor, Light Reading Cable