South Korea has taken an early lead in the international 5G race. By June, more than a million of the Asian country's smartphone addicts, who remain glued to their screens even when dodging traffic, had become 5G customers.
The number keeps rising: SK Telecom, the 5G frontrunner, expects to have more than 2 million 5G customers on its own network by the end of the year.
But the 5G frenzy has led to mixed fortunes for operators. Financial results published by SK Telecom and KT, the country's two largest telcos, highlight increases in service revenues fueled by 5G take-up. The costs of providing 5G, however, has meant there was also a slump in profitability at both companies.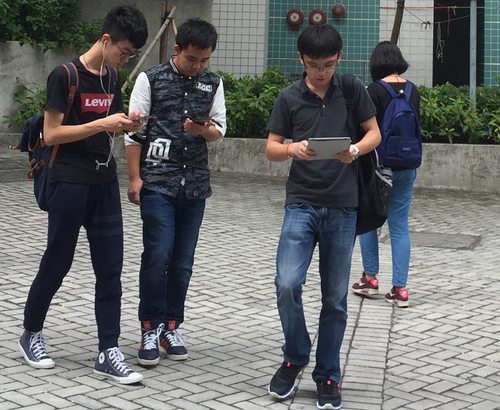 The decline was pronounced at KT, which announced results in Seoul earlier today. Operating income for the second quarter dropped 27.8%, to about 288.2 billion Korean won ($240 million), compared with the year-earlier period. That was despite 1.7% growth in service revenues, to nearly KRW5.09 trillion ($4.18 billion), and 5% growth in total revenues, to almost KRW6.1 billion ($5.01 billion). Expenses, including sales and marketing costs, were up 7.4%, to more than KRW5.8 trillion ($4.77 billion). Preparing for the next-generation mobile technology, and persuading customers they should use it, took a heavy toll.
It was a similar story at SK Telecom last week. Operating revenues rose 6.8%, to more than KRW4.4 trillion ($3.62 billion), with the mobile business recording its first sequential sales growth in several quarters. "Greater data usage and higher ARPU [average revenue per user] as a result of 5G launch led to MNO [mobile network operator] turnaround," said SK Telecom in explaining the performance. Operating expenses rose 8.1%, to about KRW4.1 trillion ($3.37 billion), because of marketing and other costs related to the 5G push. Operating income fell 6.9%, to KRW322.8 billion ($270 million).
The 5G impact on profits was expected. In late July, analysts were reportedly anticipating a fall in second-quarter operating profits generated by all three MNOs, with LG U+ making up that group. On the sales front, moreover, both KT and SK Telecom defied expectations that revenues would remain flat despite the 5G antics. Yet KT's share price fell 2.3% today and has dropped 12.5% since December 11 last year. SK Telecom's share price has lost similar value in recent months, falling 15.5% since November 30, when it was at a 12-month high.
Optimists may point out that sales have risen even though 5G still accounts for only a tiny sliver of the customer base. At KT, just 1.9% of all mobile subscribers were on 5G deals at the end of June, said the operator in its earnings update. That equates to around 409,400 5G customers at a company with nearly 21.55 million mobile subscribers in total. SK Telecom is slightly ahead, with 530,000 5G customers and about 24 million mobile subscribers overall. Its monthly ARPU inched up 0.4% sequentially, to KRW30,755 ($25.30), thanks to "higher data usage and the launch of 5G services." As 5G take-up rises, revenues could enjoy a sustained boost.
---
Want to know more about 5G? Check out our dedicated 5G content channel here on
Light Reading.
---
The trouble with this analysis is that later 5G adopters are likely to use less data and spend smaller amounts. Competition may also continue to exert downward pressure on pricing. While SK Telecom's ARPU showed a sequential improvement, the figure was down 4.7% year-on-year because of "tariff discount impact," said the operator. And the mobile "turnaround" was only sequential, too. MNO revenues slid 2.5% year-on-year, to about KRW2.44 trillion ($2 billion). Topline growth since the second quarter of 2018 was entirely thanks to the operator's fast-growing media and security businesses.
Cost reduction may be an easier task than sales growth. While both operators are still building out their 5G networks, the launch of any mobile technology is usually accompanied by a flurry of expensive promotional activity. At KT, marketing costs rose a fifth in the second quarter, to KRW711.6 billion ($580 million), compared with the year-earlier one. After the initial excitement has passed, and the billboards have come down, these expenses should fall.
But few seasoned observers expect juicier profits from smartphone-based 5G services. Operators' best hope is that 5G eventually gives rise to new types of revenue-generating service, including applications used by their business customers. KT, for instance, has been working on augmented-reality glasses that could aid productivity in the construction sector. "This will help you collaborate with your colleagues working at a different site," said Lee Sun Woo, the head of KT's Infra Research Lab, at the MWC Asia show in June. The operator is also developing 5G-based drones for public safety agencies.
It all sounds like a more exciting 5G world than one that is entirely about higher-speed connections for smartphones. The question is whether operators can make it pay.
Related posts:
— Iain Morris, International Editor, Light Reading