Dish is announcing today that Charlie Ergen is stepping down as chief executive officer so he can focus his attention on the company's wireless business. President Erik Carlson, who was previously also the COO of Dish, will now take the reins as CEO. But even as both president and CEO, Carlson will still report to Ergen, who remains chairman of the company.
The restructuring of the leadership team comes as Dish Network LLC (Nasdaq: DISH) faces the daunting prospect of building out a new wireless network while simultaneously trying to restore the health of its legacy satellite and over-the-top Sling TV businesses. Dish has long counted on the value of its wireless spectrum holdings as a guarantor of future financial success. However, with no telecom company looking to buy those spectrum assets, their value can only be realized through an organic network buildout. That in itself is a difficult and presumably expensive proposition, and it means Dish has to make serious investments on the wireless side of the house at the same time it's hemorrhaging money in video services.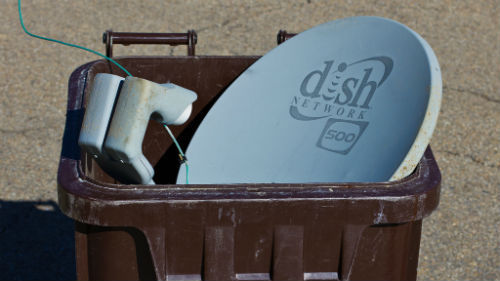 Just how bad is Dish's situation? Its latest quarterly financial report suggests Dish's satellite TV revenue is down 4.3%, and that earnings before interest, taxes, depreciation and amortization (EBITDA) are down 9.7%. So-called "recurring EBITDA" for the business is falling by 17.3%. (See Time May Have Run Out for Dish Buyout.)
Meanwhile, the Sling TV service is doing little to help Dish out of its video predicament. While Leichtman Research Group pegs the number of current Sling TV subscribers at about 1.68 million, those customers are cutting into Dish's profit margins because of the high cost of programming and the relatively low consumer price for the OTT service.
As for Dish's wireless plans, the company has committed to building a 5G-capable network by March 2020. That promise follows a mandate by the Federal Communications Commission (FCC) that Dish finalize a strategy for the deployment of its spectrum holdings, which the company has been sitting on in the hopes of attracting a buyer. There is still the possibility that Dish could strike a spectrum deal with another company, something Ergen alluded to as potentially more likely now that Sprint Corp. (NYSE: S) and T-Mobile US Inc. have abandoned their merger plans. However, despite continued gossip, and Ergen's own predictions, there is no evidence that such a spectrum transaction is imminent.
Dish notes that in addition to Ergen's move inside the company, EVP John Swieringa will succeed Carlson as COO. Dish has also reorganized to appoint Brian Neylon as EVP and group president of Dish TV, and Warren Schlichting as EVP and group president of Sling TV. EVP and CTO Vivek Khemka will now report to Carlson.
— Mari Silbey, Senior Editor, Cable/Video, Light Reading