LAS VEGAS -- CTIA Super Mobility Week 2016 -- Oh dear, there's nothing more depressing than walking into the press room on the first morning of a major wireless show and finding it virtually empty.
Yet that's what happened on Tuesday morning at the Sands Expo center. Everybody was either in San Francisco -- or in their hotel rooms -- to watch the iPhone 7 launch. It was even worse than last year.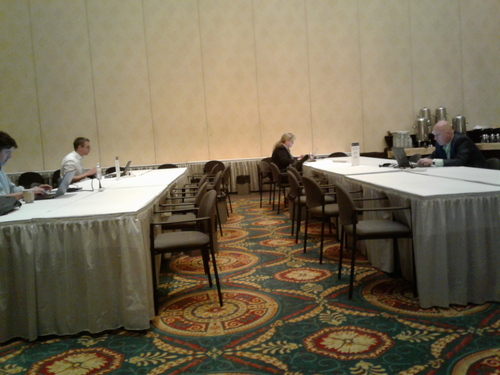 The show floor was equally underwhelming. Once you got beyond a shell of big name booths, it was all iPhone cases and accessories on show.
In fact, someone at one of the major US mobile service providers told me they were seriously considering being a no-show this year. This would have been a shocker in the CTIA's boom years, but seemed quite logical surveying the sea of smartphone skins.
So -- thank the Great Turtle that holds up the world -- the event will be moving to San Francisco, after years being nestled in the glittery armpit that is the Las Vegas Strip. In fact, in partnership with the GSM Association (GSMA) , the event now becomes Mobile World Congress Americas on September 12-14, getting out from Apple's shadow too.
(The GSMA apparently came mob-handed this year with 30 people, far more than usually attend. They must have been so happy!)
To be fair, the CTIA was apparently locked into this week at the Sands Expo, the contracts were signed several years ago. So they couldn't escape the massive gravitational pull of the iPhone launches that fell on the same week anyway.
I've been covering the CTIA show since they were in New Orleans in the late 90s. Despite the massive growth of the US mobile business and the way it has beamed into many corners of everyday life, the show has become increasingly irrelevant.
It's a paradox, and maybe one way to change is by getting the hell of Glitter Gultch. We'll see.
— Dan Jones, Mobile Editor, Light Reading