LAS VEGAS -- 2017 Calix Connexions -- Calix is introducing the next generation of its GigaFamily products, and these home gateways won't only sport higher-powered chipsets and the latest WiFi specs, they'll also come with a new EXOS platform for managing Internet of Things services in a broadband subscriber's home.
The new EXOS operating system, launched here at the 2017 Calix Connexions Innovation and User Conference, creates an abstraction layer on Calix Inc. (NYSE: CALX) hardware that allows service providers to manage devices across the spectrum of IoT protocols and also to interface with software from a wide range of consumer devices. What does this mean in practical terms? It means that service providers have a way to bundle security and analytics around smart home applications. And it means network operators can take advantage of innovations in the retail product channel while still managing whole-home connection quality. (See also Comcast Unveils Smart Home Platform.)
EXOS works by creating a native container framework inside Calix customer premises equipment. Built within the OpenWrt ecosystem, the platform "speaks" to software in standardized retail devices -- like smart speakers, thermostats and more -- and gives operators visibility into connectivity behaviors along with the ability to layer in data analysis and security solutions. The benefit for operators is two-fold. First, it helps them cut costs by improving quality of experience and reducing customer support calls. And second, it opens up the door to new revenue streams based on the resale of popular smart home products and/or new services that operators can package with the devices customers buy at retail.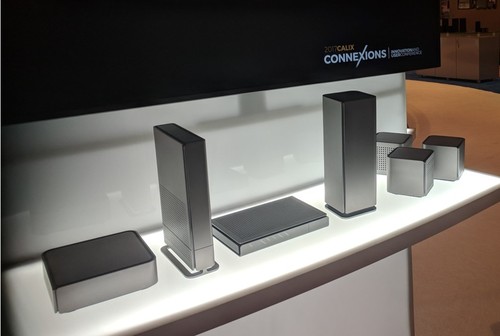 Michael Weening, EVP of sales and marketing, explains that in gateways like the Calix GigaFamily product line, there is "all this free compute just waiting for you." Calix started putting those compute cycles to work, and the result is an on-premises operating system with flexibility for continued software innovation.
Calix has also included direct support for Amazon Alexa and the Google voice assistant in its new CPE, and it's embedded an array of IoT radios in the hardware. The new GigaFamily devices support Zigbee, Z-Wave, HomeKit and Thread alongside WiFi and Bluetooth. When combined with the EXOS platform, those radios make it possible not only to interact with smart home products, but even to enable service chaining across different protocols.
For example, a single motion sensor routed through one of the new GigaFamily products could tell both Zigbee and Z-wave smart lamps to illuminate when motion is detected.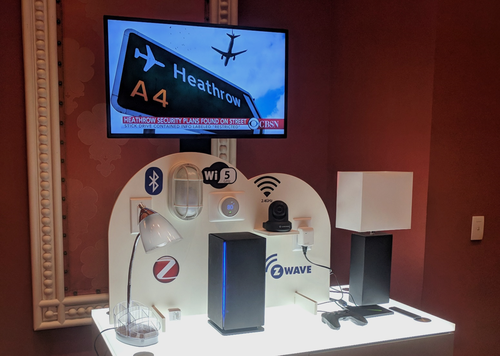 EXOS has a major runway beyond smart home applications too. While Calix is focusing first on the residential space with EXOS, there is also significant opportunity ahead in the business services channel. VP of Systems Products Shane Eleniak says EXOS is "designed to be white box out of the gate," meaning it will be able to reside not only on the GigaFamily CPE, but also on commercial off-the-shelf enterprise hardware including the x86 chassis.
Using the EXOS container framework, Eleniak says operators will be able to easily introduce new virtual services to customers including VPNs, security solutions, SD-WAN and more. Calix will market some of its own applications along these lines, but the company is far more interested in delivering the framework that enables them than it is in being a piecemeal application provider.
And speaking of applications, Calix is also demonstrating one highly interesting use case with EXOS at its user conference this week. The company is showing how its platform can be used to boost bandwidth on an on-demand basis.
The example? A service provider customer encounters video buffering and asks a Calix gateway with EXOS, "What's wrong with my network?" The system responds with information about traffic congestion and offers to increase capacity to the subscriber for a set period of time. Naturally that extra bandwidth comes at a price, and if customers pay it, operators get the dual reward of both delivering a higher-quality consumer experience and monetizing it for all it's worth.
— Mari Silbey, Senior Editor, Cable/Video, Light Reading