Sometimes the right idea hits at the right time.
After Comark started churning out kiosks for the LinkNYC project -- an initiative which aims to replace old-style phone booths with tricked-out WiFi hotspot structures -- that part of the company's business became the tail wagging the rest of the dog. The effect was so dramatic that Comark decided to spin out the successful division from its legacy business in ruggedized computing equipment to form a new company called Civiq Smartscapes.
"We see this as just the beginning of this transformation of urban infrastructure into intelligent networks," says Brad Gleeson, chief commercial officer for Civiq Smartscapes.
While LinkNYC is a novel endeavor, Gleeson believes it's only the first of many that will unfold in the near future. He describes the project as "not unique to New York, but it's specific to New York."
The prototype modules hitting the streets of the Big Apple now are designed to offer not only WiFi access, but also free domestic phone calling, a charging station for mobile devices, and city information services available through a touchscreen interface -- all of which are made possible by advertising revenue. There were originally supposed to be between 400 and 500 kiosks installed in NYC by the end of the year, but with a moratorium on construction during the holiday tourist season, that timeline may get pushed back. Eventually the project -- which is being organized by a consortium of companies collectively known as CityBridge, and which includes the company Intersection with a minority investment from Google (Nasdaq: GOOG)'s Sidewalk Labs -- is expected to produce and distribute up to 10,000 kiosks throughout New York City's five boroughs, offering Internet speeds up to a gigabit. (See Who's Feeding Fiber to LinkNYC Hotspots?)
Civiq has every intention of moving beyond New York as smart cities gain momentum. However, its products in other regions might look and behave much differently. In Shanghai, for example, kiosks might be designed with a goal of measuring air quality through environmental sensors. In Los Angeles, the focus might be on tracking traffic patterns.
"We're building an iPhone for the street," says Gleeson. The foundation is likely to be similar in different locations, but the applications could be very different.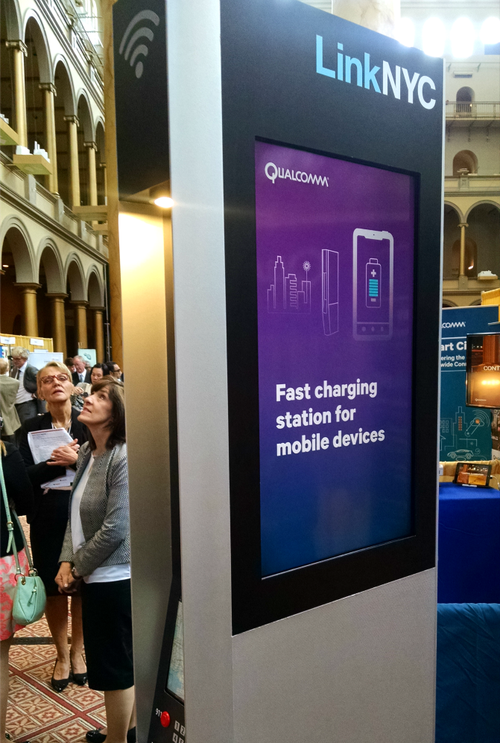 As far as applications go, Gleeson explains there isn't one killer app that's emerging for smart cities, but he does cite parking as an application that's easy to understand. According to Gleeson, 30% of urban gridlock comes from people circling an area in search of parking. But if there were some kind of smart infrastructure in place tracking available spaces and posting that information in real time, that gridlock could be significantly reduced.
At the moment, most cities thinking about smart infrastructure are thinking more broadly about how to build a "seamless canopy of connectivity." Civiq is still a newcomer to many of these conversations, but not surprisingly, Gleeson emphasizes how important it is when working with a local government to get access to the region's high-speed broadband networks.
The theme of pairing smart city initiatives with high-speed broadband networks is one that has figured prominently in industry conversation in recent months. At the highest level, the White House just committed $11.5 million through the National Science Foundation to fund work by US Ignite and the Mozilla Foundation to develop and scale smart city applications in gigabit communities. In the case of US Ignite and Mozilla , participating communities are partnering with a wide range of network providers and technology vendors to test out new services. (See White House Funding Seeds Smart Cities.)
The same is likely to be the case for Civiq Smartscapes, which could find itself working with a private Internet service provider in one city and a municipally owned network operator in another.
---
The rollout of gigabit broadband access networks is spreading. Find out what's happening where in our dedicated Gigabit Cities content channel here on Light Reading.
---
Interestingly, the primary wireline service provider partner in the LinkNYC project still has not yet been announced. According to Gleeson, there are a lot of fiber assets in place already, but access and leasing agreements are still being worked out, along with the logistics for integrating those assets and managing them from a network operations center. The service provider in charge of that process has been selected in New York, but officials have so far not disclosed who it is.
Gleeson asserts the playbook for Civiq in other cities will be to assess what broadband infrastructure is available and/or what network development is planned. With those cities that have decided to make new investments, Gleeson says timing can be an issue in terms of pushing forward with a smart city initiative. If network development is already underway, it can be hard to distract officials from the goal of finishing that deployment. If Civiq joins the conversation early enough, however, it can be a catalyst for more strategic thinking around what high-speed broadband might be used for.
The trajectory for smart cities is still largely undetermined. What business models will work best? What level of underlying infrastructure will support the best implementations? What will be the most effective step-by-step process for deployment?
There is, however, a lot of interest in both the public and private sectors in the opportunities that smart cities could create. Sitting at the intersection of communications networks and consumer-facing machines, Civiq Smartscapes hopes to be a big part of that future.
— Mari Silbey, Senior Editor, Cable/Video, Light Reading