There's a puzzle about Ethernet these days. On the one hand, experts say Ethernet's shaping up as a key transport technology for metro networks (see Report Sees Metro Ethernet Growth and 10-Gigabit Ethernet Switches and Routers, page 2). On the other, market stats show ongoing decline in Ethernet switching gear.

Figures released today from Gartner Inc., for instance, show worldwide sales of Ethernet switches fell to $2.3 billion during the second quarter of 2003, representing a 15 percent decline year over year (see Gartner: Ethernet Switch Market Slips).

What gives? Doesn't the law of supply and demand call for Ethernet services to drag Ethernet switches up the ramp?

Analysts say it will take some time for Ethernet switch sales to correspond with growth of Ethernet services. First, the growth of services needs to gel. Right now, most of the activity is happening in the Asia/Pacific region, and the progress of services in North America has been slow, broken up by the demise of several high-profile Ethernet services vendors over the past couple years (see Yipes Files Chapter 11: Is Ethernet a Sustainable Business Model?).

"Some data points show increased levels of activity... but you need to see that over numerous quarters," says analyst Mark Sue of CE Unterberg Towbin. "Some bright spots don't make a trend."

One analyst says Ethernet switch sales to carriers are "definitely growing," but the data is masked. According to Michael Howard, co-founder and principal analyst at Infonetics Research Inc., stats for Ethernet switching alone don't reflect the progress of service provider sales, since they're so laden with enterprise data.

There's good reason for that. Vendors of Ethernet switches say they turned to enterprise business when the telecom market slid. The trend was noted by Bobby Johnson, CEO of Foundry Networks Inc. (Nasdaq: FDRY), in a recent interview (see Bobby Johnson, Foundry Networks, page 5). And in its latest earnings report, Extreme Networks Inc. (Nasdaq: EXTR), which showed only slight revenue growth in its latest quarter, said enterprise customers accounted for 85 percent of sales (see Extreme Optimism Boosts Stock).

Gartner analyst Rachna Ahlawat concedes that most of Gartner's revenue figures, about 95 percent, represent sales to enterprises. But she says it doesn't matter: Sales of Ethernet switches to any group won't increase until buyers start upgrading their gear to accommodate higher than Fast Ethernet speeds at the desktop, she says. And that's not happening, not even with prices dropping. Until it's clear that Ethernet services have caught on, and higher speeds are demanded by individual users, carrers won't drive up their own procurement.

Granted, carriers don't use Ethernet switches alone to roll out services. Routers, multiservice provisioning platforms, and next-gen Sonet/SDH gear is usually key to the mix. Interestingly, separate Gartner figures also issued today indicate worldwide second-quarter router sales to carriers were $455.4 million, up 6 percent sequentially (see Gartner: SPR Market Rebounds). How much of that was due to Ethernet capacity being added isn't clear, however. And Ahlawat says at least two to three quarters of sustained sequential growth will be key to declaring a solid upward trend.

What will materialize is probably a domino effect: Demand for Ethernet services will pick up along with demand for greater user bandwidth. Prices will drop. Ethernet equipment sales will go up.

The question is "When?" Most sources contacted for this article have an open-ended answer, such as "Later this year," or "Later, in 2004." One way to chart activity is through the financials of the leading vendors, which by Gartner's reckoning include Cisco Systems Inc. (Nasdaq: CSCO), Extreme, Foundry, Hewlett-Packard Co. (NYSE: HPQ), Nortel Networks Corp. (NYSE/Toronto: NT), and 3Com Corp. (Nasdaq: COMS).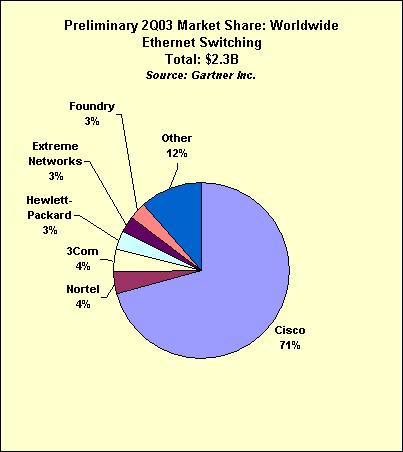 Most of these vendors sell to both carrier and enterprise customers. One, 3Com, however, does not, and a spokesman says the company has no plans to do so.

— Mary Jander, Senior Editor, Light Reading