Summary: Cisco's SGSN scaled up to 1,060,000 emulated 3G subscribers at a steady attachment rate of 4,200 subscribers per second, at the same time communicating with the GGSN to activate PDP contexts at a similar rate.

A Serving GPRS Support Node (SGSN), as its name hints, functions as a bridge between the mobile and the packet world. It deals with mobility aspects such as user attachment and location management as well as logical link management, authentication, and charging. The SGSN is also tasked with the actual delivery of data to and from the users – it is the last device upstream that sees both 3G voice and broadband data traffic in parallel.

Cisco's ASR 5000 can be configured as a SGSN or a GGSN in a UMTS context (later we discuss its role in a LTE network). For this test the ASR 5000 acted as an SGSN while the Spirent Landslide tester emulated Radio Network Controllers (RNCs) on one side of the SGSN and a GGSN on the other side.

Since the SGSN is the user's first point of entry into the mobile core network it must also be able to validate, against a Home Location Register (HLR), user's subscriber data such as user profile and location or serving area (see the bottom of this page for more information).

Cisco's claim, which we were asked to validate, was that the ASR 5000 could support 4,200 attachments per second and scale up to over a million attachments. These attachments represent users that are looking to access network resources. The test logic was, therefore, to set up a constant rate of 4,200 attachments per second until 1,060,000 users attached to the network. Each successful attachment was followed by a PDP context activation.

The relationship, in the mobile core network, between SGSN and GGSN is such that a number of SGSNs all connect to a single GGSN. Hence the attachment rate that a single SGSN must support is smaller than the PDP activation rate that should be supported by the GGSN. For this reason, in this test we focused on 4,200 attachments per second while in the GGSN test we verified a higher number of PDP context activations per second.

We tested the SGSN in the mobile core environment set up earlier.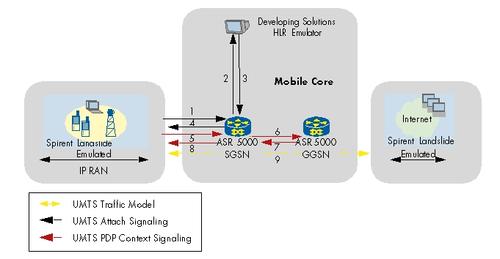 As each of the 1,060,000 emulated subscribers connected to the network, at a rate of 4,200 per second, the SGSN obtained the information necessary to authenticate them from the HLR. After a successful authentication, the SGSN informed the HLR as to the registered location of the subscriber and the HLR in turn pushed the subscriber's subscription profile to the SGSN. Cisco's SGSN successfully supported this number of attachments per second and scale.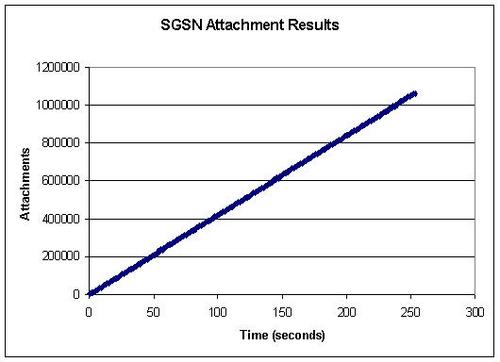 So what is the message to the mobile service providers? The newly minted Cisco SGSN seems to be a serious workhorse. The number of activations we were able to validate in this test show that a ratio of four SGSNs to a single GGSN could be used in network planning, allowing the SGSN to aggregate a larger than normal service area and hence reduce operating cost.

Emulating the home location register
In order to circumvent an involuntary scalability test of the HLR, Developing Solutions graciously provided the HLR emulator and supported the test, connecting the HLR to the SGSN (Gr Interface). As no network-initiated services were tested, the GGSN was not connected to the HLR (Gc Interface).

Here is a little background on the HLR's functions in the mobile core: It is the central repository, within a subscriber's home network, that contains the profile for every mobile subscriber authorized to use the mobile network. Included in this profile are the subscriber's unique identifiers (e.g., phone number), authentication material, types of services the subscriber subscribed to, and the current location of the subscriber. The HLR is a common point in the mobile network that determines the type of services the subscriber may access (e.g. roaming, data, or SMS) or to locate the subscriber (e.g. incoming calls for a roaming subscriber).

Page 3: Results: ASR 5000 GGSN Session Setup Rate & Capacity