Report: Next-Gen Gear Replacing Sonet
Traditional Sonet/SDH gear designed to handle single-wavelength voice networks is going the way of the dinosaurs.
So says a recent report from research firm
Frost & Sullivan
. By 2002, DWDM-equipped systems with Sonet/SDH interfaces will finally outsell plain-vanilla Sonet/SDH gear. By 2006, annual worldwide sales of Sonet add/drop multiplexers, terminals, and other old-fashioned stuff will have dwindled to roughly half the year-2000 peak of $15.5 billion. This gear will represent less than a quarter of the total optical networking transmission gear (not counting digital crossconnects and optical switches).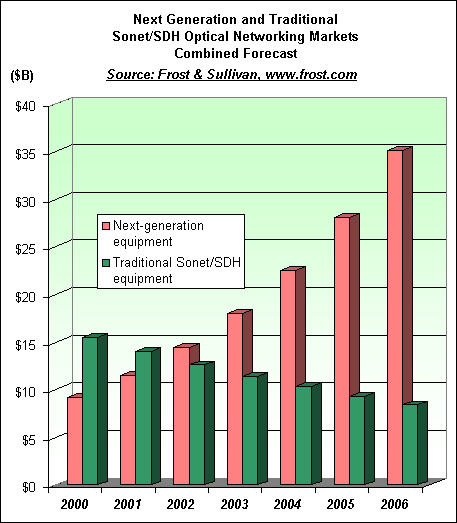 In the same time frame, sales of next-generation systems, including those with multichannel DWDM and Sonet interfaces, will nearly quadruple, growing from $9 billion in 2000 to $35 billion in 2006.
The trend away from traditional Sonet/SDH gear is presenting a challenge to those vendors that built empires supplying this equipment. Faced by increasing levels of data traffic and increased demand for gear that handles voice and data together, incumbent vendors of Sonet/SDH add/drop multiplexers and terminals, such as
Alcatel SA
(NYSE: ALA; Paris: CGEP:PA) and
Lucent Technologies Inc.
(NYSE: LU), are finding they must create new offerings for existing customers in a timely way or fall by the wayside.
The situation has shaken the industry. "Vendors that do not adapt to rapid product cycles and embrace a distributed manufacturing model will perish," warns Mark Storm, optical networking program leader at Frost and author of the report. "However, vendors that prune their product mix and operations and embrace customer demand for multivendor network deployments will be very difficult to displace."
The push for more flexible, next-gen products has pushed companies such as
Ciena Corp.
(Nasdaq: CIEN) and
ONI Systems Inc.
(Nasdaq: ONIS) into stronger positions, although future success isn't guaranteed. These vendors, too, will be faced with future competition from the incumbents as well as startups.
Storm says he doesn't count some kinds of optical gear in his taxonomy. "I don't count crossconnects or optical switches in these figures, since that would make it tougher to track the winners and losers going forward," he says.
Crossconnects from companies such as Alcatel, Lucent, and
Tellabs Inc.
(Nasdaq: TLAB; Frankfurt: BTLA), and optical switches from the likes of
Tellium Inc.
(Nasdaq: TELM) are tracked in other reports, Storm says.
Storm concedes that it will get tougher to keep products compartmentalized this way, because traditional Sonet/SDH vendors are introducing next-gen equipment, and next-gen vendors are combining routing, transmission, DWDM, and switching functions in a growing variety of hybrid devices.
Winners and losers will emerge from all camps, Storm says, depending on how well and how quickly they can meet customer requirements.
- Mary Jander, Senior Editor,
Light Reading
http://www.lightreading.com
Want to know more? The big cheeses of the optical networking industry will be discussing this very topic at Opticon 2001,
Light Reading
's annual conference, being held in San Jose, California, August 13-16. Check it out at
Opticon2001
.
EDUCATIONAL RESOURCES


PARTNER PERSPECTIVES
- content from our sponsors