Providers of next-generation telecom operations support systems (OSSs) are aggressively pursuing more complex sales channel partnerships with equipment makers, systems integrators, and other OSS vendors, effectively changing the way that telecom software is marketed and sold to carriers, according to a new report from Heavy Reading (see HR Report: OSS Channels are Shifting).

The report, Next-Gen OSS Partnerships and Strategies: Wireline Sector, finds that next-gen OSS developers are placing more emphasis on developing sales channel relationships that don't involve direct sales to telecom carriers. Some, such as Sheer Networks Inc. and Syndesis Ltd., have their strongest relationships with hardware manufacturers; while others, such as Granite Systems Inc. and Ilog Inc., are building their strongest relationships with other OSS players or systems integrators.

The highest levels of OSS channel partnership activity involve systems geared specifically toward helping carriers generate new revenues and launch new services quickly, according to Heavy Reading. Service provisioning and service management OSSs accounted for nearly a third of the more than 900 OSS channel partnerships analyzed in the report.

Operator demands are also influencing OSS partnership programs at some of the leading equipment vendors. Carriers want the flexibility to choose best-of-breed solutions rather than be locked into a limited set of OSS options. As a result, more equipment vendors are forging referral partnerships with a wider range of OSS partners, rather than developing more exclusive resale deals.

The chart below shows how referral relationships have completely supplanted simple resale agreements at some hardware firms.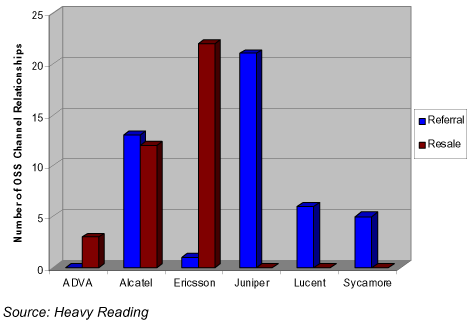 Some of the largest equipment companies, including Alcatel SA (NYSE: ALA; Paris: CGEP:PA), Cisco Systems Inc. (Nasdaq: CSCO), Juniper Networks Inc. (Nasdaq: JNPR), and Nortel Networks Corp. (NYSE/Toronto: NT), have developed wide-ranging OSS channel partnership strategies.

Alcatel, for example, has 23 channel partners covering all 12 of the OSS product categories defined in the report. These relationships cover the French vendor's entire product range, with the exception of the B-RAS (broadband remote access server) category.

Nortel has 19 relationships covering 10 of the 12 OSS categories, though it is reluctant to disclose the exact nature of its partnerships.

Carrier demand for OSSs that are easier and faster to deploy is changing the relationships among the telecom software firms themselves. Leading OSS suppliers are now collaborating with each other, even in instances where they are direct competitors within particular categories.

In addition, some OSS players previously preceived as strictly proprietary are increasingly embracing open standards efforts. The report cites the support of the OSS Through Java Initiative by two of the perceived champions of proprietary preintegration, MetaSolv Software Inc. (Nasdaq: MSLV) and Telcordia Technologies Inc.

Telcordia is also an example of an increasingly collaborative OSS player that is now working alongside direct competitors in an attempt to meet operators' demands (see Telcordia Opens Up).

The 79-page report analyzes more than 900 different OSS channel partnerships involving 93 OSS vendors, 27 wireline equipment vendors, and 91 systems integrators, and is based on surveys of public and private hardware and software vendors and system integrators, as well as interviews with industry executives.

— Ray Le Maistre, International Editor, Boardwatch