China's Huawei Technologies Co. Ltd. sprung a few surprises at the recent ITU Telecom World 2003 tradeshow in Geneva -- one of which was that U.K. operator Fibernet Group plc (London: FIB) has deployed a nationwide network of Huawei's newly-upgraded Quidway NetEngine core routers (see Fibernet Deploys Huawei Routers ).

Digging into this development uncovers further surprises, namely:


Fibernet is very impressed by Huawei and says the common Western perception of the company as a manufacturer of low-cost, me-too equipment (see chart below) is totally wrong. Nigel Pitcher, Fibernet's marketing director, says Huawei has "phenomenal" research and development operations that surpass anything he's seen in the West. Huawei went to great lengths to ensure that it met Fibernet's requirements and gave Fibernet a great deal. It was "a pretty compelling bundle of early technology and value," says Pitcher, who declines to be any more specific on price.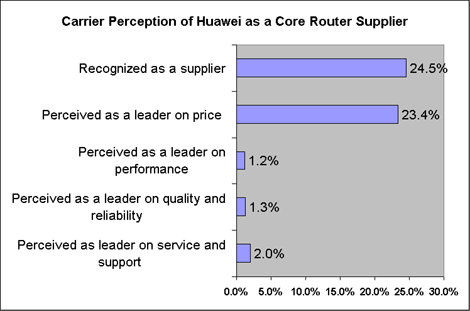 The Ethernet services being offered over the Huawei network are selling like hotcakes. "We're seeing the fastest migration from one technology to another that I've ever seen," says Pitcher. Eighteen months ago, all of Fibernet's wholesale customers (ISPs) were asking for SDH circuits. Now seven out of ten are asking for Ethernet, Pitcher says. The sales cycle for enterprise customers is longer. "The first big orders are coming in now," he claims. "We've got a very, very healthy pipeline." Fibernet has been offering point-to-point and point-to-multipoint Ethernet services for three or four months and plans to launch any-to-any services "before Christmas." (See Virtual Private LAN Service.)


Fibernet loves Resilient Packet Ring Technology (RPR) technology. Pitcher says it's a no-brainer for carriers like Fibernet, whose infrastructure is based on fiber rings. Trying to superimpose mesh topology virtual networks over such infrastructure would result in "incredible inefficiences," he says. RPR also means Fibernet can dynamically configure Ethernet connections from a remote console, rather than having to "nail up" static connections, as is current practice with Frame Relay and Asynchronous Transfer Mode (ATM) services. Dynamic provisioning makes for much faster provisioning times and big cuts in operating costs. Huawei's Quidway routers currently support the spatial reuse protocol, a pre-standard technology promoted by Cisco Systems Inc. (Nasdaq: CSCO), but will be upgraded to support the RPR standard, according to Pitcher.


Huawei's latest upgrade of its Quidway NetEngine routers underscores the role that network processors are likely to play in the future -- making equipment more flexible. In the upgrade, Huawei has replaced ASICs (application-specific integrated circuits) with network processors so that it can upgrade the routers with new versions of software, rather than having to replace hardware. The network processors come from IBM Corp. (NYSE: IBM), which raises questions over what's happening with Huawei's deal with startup Silicon Access Networks Inc. (see 10-Gig Network Processors and Huawei Chip Deal: Who's Got It?).


Fibernet satisfied itself that Huawei isn't using software pirated from Cisco (or anybody else for that matter). "We can't afford to risk anything," says Pitcher. Huawei already had an independent auditor's report demonstrating that its source code is "100 percent Huawei," according to Pitcher. The auditor's report was prepared as evidence for the lawsuit launched by Cisco (see Cisco/Huawei Lawsuit on Hold). Huawei points out that the lawsuit concerns low-end routers, not its high-end NetEngines, and that it only relates to its activities in the U.S. in any case. It says it invited Fibernet to send any independent expert to Shenzhen to go over its course code line by line, an offer that Fibernet didn't find necessary to take up.

— Peter Heywood, Founding Editor, Light Reading