Digital Lightwave Inc. (Nasdaq: DIGL) has reached a settlement with its landlord, ending a lawsuit in which it was threatened with eviction for failing to pay the rent.

The lawsuit started back in April 2003, when the landlord for the company's Clearwater, Fla., facility filed court papers asking for unpaid rent and taxes, as well as damages. In documents recently filed with the U.S. Securities and Exchange Commission (SEC), however, the test vendor indicates it's reached a new arrangement, securing the building with a new letter of credit and leasing it back on new terms.

One analyst says the kerfuffle isn't surprising. "[Digital Lightwave] has a really opulent building," says analyst Joe Noel of Pacific Growth Equities Inc. He says the company headquarters, not all that impressive by the high-flying standards of five years ago, today could be considered far too "beautiful" to house a company fighting losses and shrinking revenues.

And Digital's struggling. Like other test vendors, it's suffered severely from the telecom downturn (see Acterna Default Points to Testing Times). As key customers like AT&T Corp. (NYSE: T) have stopped buying, revenues have slipped drastically (see Digital Lightwave Keeps Sliding in Q1 and Digital Lightwave Announces Q3).

"The market's been decimated, and price competition has forced margins down," says Noel.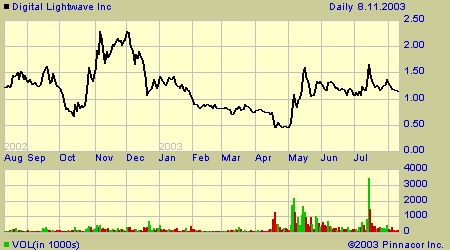 The vendor's own last few SEC filings feature woeful boilerplate: "Digital has insufficient short-term resources for the payment of its current liabilities," reads one. Creditors are calling, some are suing. Digital's looking for ways to restructure its obligations and get new working capital.

Until financing comes, though, Digital Lightwave continues to borrow substantial amounts from Optel LLC, which is controlled by Bryan Zwan, founder of Digital Lightwave who held 57.9 percent of Digital Lightwave shares as of March 2003.

Zwan locked in gains of more than $300 million in a series of transactions involving his Digital Lightwave stock (see DIGL Founder: $348M in Insider Sales and Zwan Responds on DIGL Stock Deals ). Now, his company Optel has loaned Digital more than $8 million in a series of promissory notes from February through July 2003. The notes typically have 10 percent interest annually and are secured by the company's assets. They cover the following amounts:


February: $1.5 million (another $961,710 was borrowed but paid back in full, according to SEC filings)
March: $450,000
April: $560,000
May: $1.5 million
June: $2.5 million
July: $1.5 million



Digital Lightwave has taken measures to cut costs. Its employee roster shrank by about 30 percent earlier this year, going from about 192 employees to about 134. Offices in Brazil, Singapore, India, and Australia have closed.

How long Digital Lightwave can exist this way is unclear. Optel has indicated in filings that it wants Digital to seek outside funding. Noel says it's clear the company has tapped out its working capital and must get outside funding in order to survive. But he says he has no sense of whether the money will come, or from what source.

Digital Lightwave did not return calls for this story.

— Mary Jander, Senior Editor, Light Reading