Cisco Systems Inc. (Nasdaq: CSCO) comes out of NFOEC with an impressive marketing victory in the carrier equipment space. Its new optical switch, the ONS 15600, generated some buzz, as analysts and potential customers say it might be the medicine some carriers need in the metro core.

But this medicine might also have one undesirable side effect: In some cases the new optical switch will cannibalize potential sales of the ONS 15454 Sonet add/drop multiplexer that Cisco picked up when it acquired Cerent.

Two carriers -- US Signal and Looking Glass Networks -- are testing Cisco's new switch, and both say they will use the switch to aggregate and switch traffic in larger network interconnection points, replacing several ONS 15454s. In its first release, the ONS 15600 provides TDM interfaces at OC48 and OC192 rates while providing switching capability at STS1 rates. It also switches contiguously concatenated traffic at STS3c through STS192c rates. The initial product supports Sonet natively, but must tunnel through Sonet to support SDH.

One key benefit of Cisco's new switch is that it eliminates the need for the combined efforts of an STS-switch or digital crossconnect and several ADMs, which were previously used to pull together and groom the traffic from multiple metro rings.

"The problem it solves for us is that, as we're now running at OC192 capacity, we can reduce our operating costs by not having to have so many Cisco 15454 boxes," says Barbara Boshoven, a spokeswoman for US Signal.

"When we bought the 15454 box, it was a good metro switch and at the core we had put together a bunch of 15454s, but we frankly needed a core switch," says Sunit Patel, chief financial officer for Looking Glass Networks.

Earlier this week, Cisco said it wasn't concerned about supplanting its own ADM with the new switch because carriers would be able to use the old ADMs somewhere else. Both Looking Glass and U.S. Signal say the 15454s they replace with the ONS 15600 will be redeployed in other regeneration sites or network nodes to allow the carriers to provide bandwidth to even more customers.

However, given that service provider networks and revenues are growing more slowly now than they once were, any ADM redeployments among existing Cisco customers will, at some level, slow demand for new 15454s.

Cisco says the 15454 has more than 600 customers using some 30,000 systems. The ONS 15600, by contrast, will probably only suit the needs of about 100 U.S. carriers, according to David Lively, Cisco's senior manager for optical strategy. In the end, the numbers are small enough that gaining traction in emerging optical switching market might be more important. Cisco doesn't break out the numbers, but one New York-based financial analyst estimates revenues from all of Cisco's optical networking product lines only come to about 2 percent of the company's total revenues.

In handicapping the ONS 15600's success, it will be interesting to see how the product fares versus other metro core multiservice switches that have more bells and whistles. The ONS 15600 supports only TDM services now, but Cisco says it was designed to handle Internet Protocol (IP), Asynchronous Transfer Mode (ATM), and wavelength services and will likely add such improvements in the future.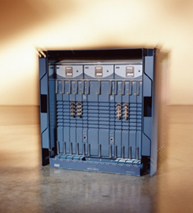 Cisco's first two trial customers have relatively new networks that are already running on predominately Cisco gear.

Cisco has committed about $50 million in vendor financing to Looking Glass. Patel says the carrier has used less than $10 million of that money. He adds that Cisco's financing wasn't what swayed Looking Glass to try the new switch.

"We had set some very strict criteria in terms of cost efficiency, switching capacity, space requirements, and power requirements," he says. "Frankly, it was more difficult to make the decision to use Cisco, because you generally want some diversity in your vendor supply."

US Signal is owned and fully funded by entrepreneur Ron VanderPol. But the company qualifies as a Cisco Powered Network, which means it generates a minimum of $5 million in annual business for Cisco, according to Cisco's Website.

The ONS 15600 will be generally available during the fourth quarter of this year. Though still in trials, Looking Glass says it has already put in orders for the switch.

— Phil Harvey, Senior Editor, Light Reading
www.lightreading.com