Juniper Snapping Up Cyphort for Security
Juniper said Thursday it plans to acquire Cyphort, a security software company providing analytics for threat defense.
Juniper will use the acquisition to bolster its Sky Advanced Threat Protection, for enhanced on-premises and cloud security, according to a post by Kevin Hutchins, Juniper senior vice president of strategy and product management, on the company blog Thursday afternoon.
Cyphort's technology integrates with "existing security tools to discover and contain the threats that bypass the first line of security defense," Hutchins says. Cyphort uses machine learning and behavioral analytics to improve efficiency.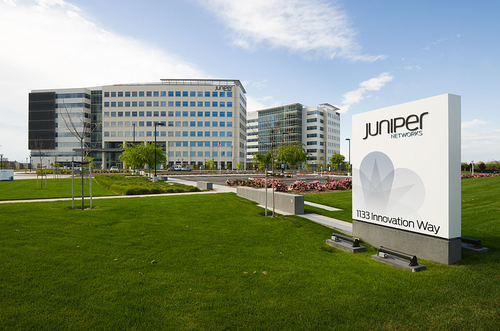 Juniper expects the acquisition to close within the next month.
Cloud-based advanced threat prevention "is becoming a critical feature of next-generation firewalls," where Juniper intends to lead, Hutchins says.
Juniper this week introduced security services designed to secure cloud-native apps built using microservices. Juniper Contrail Security is designed for enterprise and software-as-a-service multi-cloud and hybrid cloud environments. (See Juniper Secures Cloud-Native Apps.)
Security is a hot topic this week -- it was a main focus of discussion at VMware's VMworld conference in Las Vegas. And VMware launched a security service to provide protection at the application level. (See VMware Offers App Security From the 'Goldilocks Zone'.)
Juniper CEO Rami Rahim said in an earnings call late last month that the company might pursue a security acquisition, so the Cyphort acquisition isn't surprising. (See Juniper Secures Cloud-Native Apps.)
Security revenue was down for Juniper in that quarter $69 million, down 12% year-over-year and up 5% sequentially. Overall revenue for the second quarter of 2017, ending June 30, was $1.31 billion, up 7% year-over-year and sequentially.
Cyphort Chief Executive Manoj Leelanivas, was a 14-year veteran at Juniper and spent seven years at Cisco, and holds more than ten patents for his work at the two companies, according to his company bio.
Juniper most recent acquisition was cloud optimization service AppFormix, which Juniper scooped up in December.
Related posts:
— Mitch Wagner
Editor, Enterprise Cloud News