In a world of cloud computing powered by massive rows of x86-based servers in vast data centers, do older technologies still have a place? IBM's newly revamped z Systems mainframe looks to put that question to the test.
On Monday, Big Blue plans to unveil the latest version of its mainframe line -- z14 System -- and the company plans to emphasize the cloud aspects of Big Iron, including a new blockchain offering specifically geared towards financial services.
In addition, IBM is touting the encryption features of the z14 mainframe. The company claims the new system offers 7x the cryptographic performance compared to the older z13 mainframe. There is a one-click feature that will encrypt all the data in a applications, cloud service or database.
IBM also included specialized hardware to protect encryption keys, as well as a "self-destruct" feature that will trigger on the first sign of an intrusion and wipe out all the keys. This system can extend beyond the mainframe itself and protect data in cloud servers, as well as standard storage systems.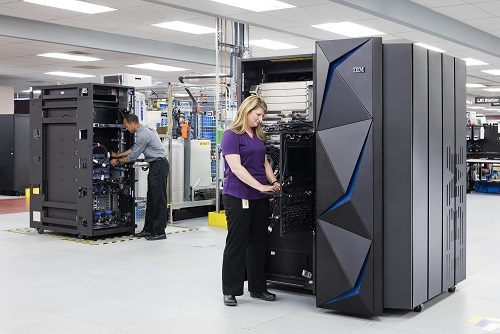 "The z14 is going to be the first system that can encrypt 100% of the data with zero changes to your applications and with no impact to your service-level agreement, whether it's a standalone system or in a cloud system," Mike Desens, vice president of IBM's z Systems, told Enterprise Cloud News. "The reason that is so critical is what is happening out in the industry today... it never ceases to amaze me how many records are being breached globally."
In an interview, Desens said many of the new encryption and security additions are built into the hardware of the mainframe itself, allowing developers and IT to bypass activating these features since these tools work automatically. The encryption is also extended out to the APIs as well.
This is also where the cloud-based blockchain service comes in as well. The Linux environment running the hyperledger fabric is protected, and to deploy the service, businesses reach back to other mainframes in IBM's data centers, where the service is hosted.
One reason for this level of encryption is to meet different standards for data and privacy protection that are springing up. For example, there are the General Data Protection Regulation (GDPR) rules that will go into effect in May of 2018 throughout the European Union. The GDPR is designed to personal privacy and regulate what personal data can travel outside the EU, and businesses can face substantial fines if they run afoul of the laws.
---
Keep up with the latest enterprise cloud news and insights. Sign up for the weekly Enterprise Cloud News newsletter.
---
The United Kingdom is also expected to adhere to GDPR despite Brexit. (See IBM Targets Data Governance as Europe Eyes More Privacy.)
One of the main reasons IBM put this much emphasis on encryption, security and cloud is to expand the mainframe's audience from traditional banking and financial services customers to other businesses such as supply chain and healthcare, as well as a government -- any organization that has a lot of data and needs it protected at all times.
While cloud is almost exclusively associated with x86 hardware, IBM has tried to revamp its older systems and position them as way to create a cloud for businesses. In May, IBM and Nutanix struck a partnership that would use Power systems as a part of a hyperconverged offering to help build private clouds. (See IBM, Nutanix Bond Over Hyperconverged .)
IBM has also used Power for a database-as-a-service offering. (See IBM Brings Open Databases to Private Cloud.)
This is the first time in about two years that IBM has updated its mainframe line. The previous system, the z13, hit the market in 2015. Desens noted that IBM is announcing the z14 on July 17, and it should be commercially available by the middle of September.
Related posts:
— Scott Ferguson, Editor, Enterprise Cloud News. Follow him on Twitter @sferguson_LR.