LAS VEGAS -- AWS re:Invent -- Amazon Web Services is looking to bring machine learning to ordinary developers, launching the SageMaker service to simplify building machine learning applications.
Machine learning is too complicated for ordinary developers, Amazon Web Services Inc. CEO Andy Jassy said at a keynote Wednesday. "If you want to enable most enterprises and companies to be able to use machine learning in an expansive way, we have to solve the problem of making it accessible to everyday developers and scientists," he said.
Amazon has a long history of machine learning, Jassy says. "We've been doing machine learning at Amazon for 20 years," he said. Amazon uses machine learning for product recommendations on its retail sales side, to optimize the robots that pick merchandise at its warehouses, for its drone service, for Alexa speech recognition, and more.
Twice as many machine learning workloads from customers run on AWS as run on any of AWS's cloud competitors -- five times as many for enterprise workloads, Jassy said.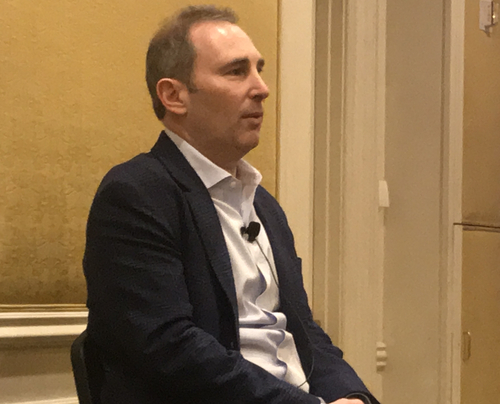 And yet it's still early days for machine learning, particularly for the enterprise, Jassy said. Most companies don't have an expert ML practice yet, as expertise is in short supply, and most of the experts work at big technology companies.
"Developers throw up their hands in frustration," Jassy said.
To help put machine learning within reach of everyday developers, AWS on Tuesday introduced SageMaker, which Jassy described as an easy way to build, train and deploy machine learning models.
SageMaker is designed to ease the machine learning jobs that are now difficult: collecting and preparing training data, choosing and optimizing machine learning algorithms, setting up and managing environments for training; training and tuning a model; deploying the model in production; then scaling and managing the production environment. SageMaker comes preloaded with leading machine learning algorithms, or users can provide their own.
And to help developers get familiar with machine learning basics, AWS introduced DeepLens, which the company bills as the first wireless, deep-learning enabled video camera. AWS sees developers using DeepLens to build simple applications that teach machine learning principles.
Machine learning and AI are hot areas of competition for cloud providers, where contenders see opportunities to catch up with AWS's long lead in market share. Google (Nasdaq: GOOG) introduced TensorFlow, its cloud-based machine learning platform, in 2015, and this year introduced TensorFlow Processing Unit chips to improve performance on its Google Compute Engine. (See Google's TPU Chips Beef Up Machine Learning.)
Also this year, Google launched an investment fund for AI startups. (See Alphabet Launches Investment Fund for AI Startups.)
Microsoft Corp. (Nasdaq: MSFT) outlined its AI plans in a plan it calls Project Brainwave, which it described in August. (See Microsoft's 'Project Brainwave' Details Ambitious AI Plans.)
IBM Corp. (NYSE: IBM) is developing a Distributed Deep Learning software library to improve scalability and performance for machine learning and AI. (See IBM Software Helps Speed Up Deep Learning.)
And Oracle Corp. (Nasdaq: ORCL) added machine learning, AI and automation for Internet of Things deployments in August, as well as juicing its Customer Experience Suite with AI. (See Oracle Adds Machine Learning, AI to IoT Cloud and Oracle Adds AI to Its Customer Experience Cloud.)
Related posts:
— Mitch Wagner




Editor, Enterprise Cloud News