ZeroStack Propels 'Self-Driving Cloud'
Startup ZeroStack is looking to combine the reduced hassle of public cloud with the control of on-premises infrastructure.
The company's Z-COS cloud operating system runs as an OpenStack-compliant hardware appliance on-premises, managed and controlled by Z-Brain, an application that runs in the cloud.
The company has a catchy phrase to describe its technology goals: "Self-driving cloud." (See ZeroStack Launches 'Self-Driving Cloud'.)
ZeroStack had a change of leadership at the top a short time ago, naming David Greene as CEO and board member. Greene is a 30-year veteran of tech companies, most recently senior vice president and chief marketing officer for cloud WiFi management vendor Aerohive Networks.
Greene took the top spot at ZeroStack June 26, replacing co-founder Ajay Gulati, who continues as chief technology officer. We caught up with Greene last week to talk about ZeroStack's mission, and how it is changing under his leadership.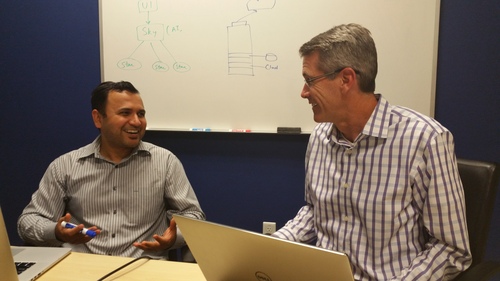 ---
What are the hottest jobs in the cloud? Get our special report to find out:
Cloud Skills: What's Hot?
---
"What ZeroStack is trying to do is merge the benefits of classic on-premises infrastructure with the advantages of a public cloud approach," Greene tells Enterprise Cloud News.
ZeroStack provides an on-premises private cloud boasting simplified operations using machine learning and automation, to make it easy as possible for operations teams to keep the cloud running. "It's still running in your environment, in your control network. You know where your data is at all times," Greene says.
The private cloud appliance combines with a public cloud management service, with a web interface to permit users to request resources from the private cloud, Greene says.
"The developer gets an Amazon-style interface to request resources, while at the same time, the IT team has the environment running where it can see it," Greene says.
Simplicity is the byword for ZeroStack; its administrator guide is a brief ten pages, Greene says.
ZeroStack avoids lock-in to its platform by using OpenStack APIs. "If you don't like the storage that's offered with ZeroStack, fine. Go get a third-party storage that's OpenStack compliant," Greene says. Similarly, the ZeroStack platform can use development tools that work with OpenStack.
"One of the subsets of customer we're talking to are frustrated OpenStack customers," Greene says, organizations that have tried OpenStack and grown frustrated with its complexity.
Part of Greene's plans is to focus the company. ZeroStack's target audience is internal developers at midsized and large enterprises and managed services providers, excluding the largest enterprise, who have large IT teams that have deployed their own solutions. ZeroStack is seeing uptake from manufacturing, software companies and healthcare, as well as early discussions with financial services organizations and higher education.
Greene says his previous experience at Aerohive is valuable to ZeroStack. Aerohive provides wireless network management from the cloud. It's similar to ZeroStack, in that it serves enterprises with highly dispersed, complex infrastructure, managed by IT staff without the specialized technical expertise they need due to a shortage of qualified experts with necessary skills.
ZeroStack has about 40 employees, with $22 million funding in two rounds, led by Foundation Capital and Formation 8.
The company is part of a technology trend of blurring the lines between public cloud and on-premises infrastructure. Microsoft is developing AzureStack, a version of its Azure cloud that runs on-premises. And VMWare and Cisco are also extending their tentacles into the public cloud.
Related posts:
— Mitch Wagner
Editor, Enterprise Cloud News
---
CALLING ALL CLOUD, NFV AND SDN COMPANIES: Make sure your company and services are listed free of charge at Virtuapedia, the comprehensive set of searchable databases covering the companies, products, industry organizations and people that are directly involved in defining and shaping the virtualization industry.
---