Sporting a black t-shirt that proclaimed "Werner Against the Machine," Amazon's chief technology officer unleashed a number of new developer tools this week that are designed to keep AWS dominance in the public cloud space intact.
At the AWS Summit in San Francisco on April 19, CTO Werner Vogels told the audience that AWS would worry about the hardware, and that they -- the developers -- should focus on creating, building and deploying new applications for their businesses.
"Our goal is to make infrastructure go away," Vogels said. "We want to make infrastructure invisible so that you can really focus on what you want to build as an application builder."
The various additions to the AWS platform will put Amazon not only deeper into the developer space, but also give it reach into areas such as software-as-a-service (SaaS), machine learning and artificial intelligence, as well as expand other components such as its Redshift cloud database.
The first item that Vogels spoke about is how companies are moving away from on-premise software and putting more money into SaaS applications that don't lock enterprises and their IT departments into long-term contracts. AWS already offers its Marketplace SaaS Subscriptions, and now it's adding Marketplace SaaS Subscriptions, which allows sellers to offer SaaS apps and APIs in one-, two- or three-year subscriptions.
At the show, Splunk CEO Doug Merritt spoke about why his company decided to join with AWS to offer its company's offerings through a SaaS model. Splunk has partnered with AWS for years, but developers were asking for an easier way to get through the procurements cycle to start developing.
"We needed to make the buying process easier for you to buy Splunk... the AWS Marketplace team made it incredibly easy for us to comply," said Merritt, adding that customers can now take advantage of their existing AWS contracts to find and buy the software.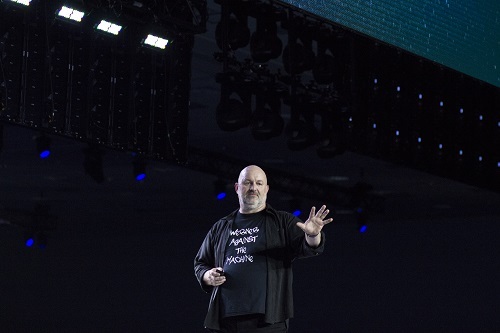 Another major development Vogels detailed was AWS CodeStar, a tool that helps provide an integrated environment for developers when they are developing applications and managing the delivery of these apps on the AWS platform. The CodeStar tool is designed to shorten the starting process, and allow more collaboration between the development teams, which can also lead to greater security when building software.
CodeStar will work with a number of different programming languages, including JavaScript, Java, Python, Ruby and PHP.
The other significant announcement is Redshift Spectrum, which now allows AWS customers to run a series of complex queries on the data they have stored within Amazon's Simple Storage Service. Redshift Spectrum eliminates the need to load or use other data prep to run the cluster.
---
What are the hottest jobs in the cloud? Get our special report to find out:
Cloud Skills: What's Hot?
---
This, in theory, gives customers the ability to access exabytes of data that would normally take a lot of compute power to process. In addition, Vogels announced the availability of DynamoDB Accelerator, or DAX, which speeds up in-memory cache.
There were several other announcements on Wednesday that Vogels spoke about, including:
Related posts:
— Scott Ferguson, Editor, Enterprise Cloud News. Follow him on Twitter @sferguson_LR.