Versa's Ahuja: Go Beyond SD-WAN
DALLAS -- SD-WAN Strategies for Success -- While SD-WAN enables operators to utilize a hybrid WAN and solve for bandwidth costs and application visibility, the industry needs to move beyond SD-WAN to software-define the enterprise branch (SD-Branch), said Kelly Ahuja, president and CEO of Versa Networks , here Tuesday.
The current model for SD-WAN hasn't fully addressed the complexity and agility needs at the enterprise branch, and a portion of the market will require more simplicity and a lower cost structure, said Ahuja.
"Here's the challenge -- at every location, at every remote site, an enterprise typically has multiple devices," he said. "We did a survey with Dimensional Research that showed that at a typical location, an enterprise will have 6 or 10 or even more. Around 66% of the enterprises that reported to us, told us they had more than 6 or 10 devices at a remote site. That's a real challenge for the enterprise, which is not the service or the WAN itself, it's all the things they're trying to do at that location." (See Versa Branches Out SD-WAN Offering.)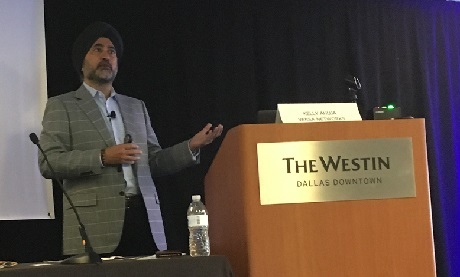 As enterprises shift to a digital, multi-cloud, SaaS world, they need contextual visibility and insights in order to enable automated policy-based control over users and applications. Enterprises want to reduce costs, but more importantly, they want to reduce complexity, added Ahuja.
"IT teams can't deliver the speed and agility that they're required to from business world. That's the big challenge they have to solve and a lot of them are looking at SD-WAN," he said.
Security is also front-of-mind as the enterprises' perimeter isn't just at the device level, but is at the user level and now the "perimeter-less" enterprise needs distributed security, said Ahuja. The solution to providing connectivity as both applications and users are fully mobile is to integrate the network and security together.
"My dream world is that I don't have to travel with any screens, I just want to be able to sit somewhere, do a biometric scan, and my PC, my applications, my content just shows up right there -- and we are going to get there," he added. "But to get there it's going to require a whole lot more innovation. To get that to happen, you have users going mobile, but now applications are going mobile."
In order to meet changing enterprise needs, service provider's business services should focus on three things -- profitability and growth, network relevance and agility at lower cost, said Ahuja.
"Service providers -- network is where you start, network is where you end and you have to be able to increase relevance of the network," he said.
---
Want to know more about the companies, people and organizations driving developments in the virtualization sector? Check out Virtuapedia, the most comprehensive online resource covering the virtualization industry.
---
While many operators have been utilizing a multi-VNF model approach to SD-WAN, that offers flexibility but limits opportunity due to costs and complexity for the enterprise.
"The cost and complexity of a multi-VNF approach is going to limit -- it's not that you shouldn't do it, absolutely should do it -- but it's going to limit the opportunity that you have going after the broader market," said Ahuja.
The solution to these cost and complexity challenges in SD-WAN is to go beyond SD-WAN to enabling a software-defined branch (SD-Branch) -- to first manage the WAN, but also to manage the entire branch to address the portion of the market that will require more simplicity and a lower cost structure, said Ahuja. Versa has developed the Cloud IP Platform which is a cloud native, multi-service, multi-tenant software platform that integrates networking and security. It can be deployed at the branch, private or public cloud and can interconnect with hybrid WAN technologies.
"With that approach, you actually deliver not just a SD-WAN service, you can deliver a software-defined security service, which doesn't exist today," he said. "The last part, you can actually go beyond both of those and get on a path to software-defining that entire branch and offering the branch as a managed service."
Ahuja closed by weighing in on the SD-WAN/MPLS debate in response to an audience question about whether or not SD-WAN will replace MPLS.
"I do think that MPLS isn't going anywhere," he responded. "What I do see happening is perhaps you can offer a more advanced MPLS service for a certain portion of the enterprise... there are folks that will say you can turn off MPLS completely... but they weren't using MPLS to begin with."
— Kelsey Kusterer Ziser, Editor, Upskill U
PARTNER PERSPECTIVES
- content from our sponsors