It turns out Tivo still wants to be in the retail hardware business. After years of pumping up its software platform, selling to service providers and taking on new customers and capabilities through its merger with Rovi, Tivo has once again cemented its status in the consumer hardware market with the launch of the Tivo Bolt Vox, 4K Tivo Mini Vox and Tivo Vox Remote.
There are two big additions to TiVo Inc. (Nasdaq: TIVO)'s Bolt product line with the new Vox updates. First is the natural language voice interface (hence, Vox), and second is the rollout of Tivo's latest visual interface update, a UI first introduced at IBC in 2016 and code-named Hydra. (See New-Look TiVo Smartens Up Its UI and TiVo's Big Consumer News Isn't at CES.)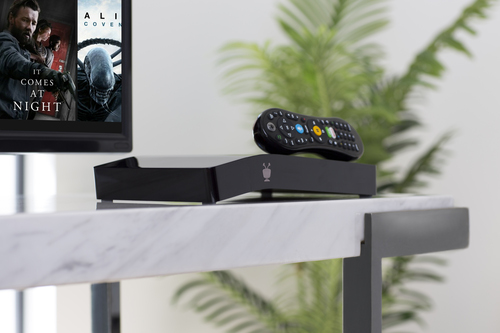 The voice control application lets users search and control video across live TV, digital recordings, the video-on-demand catalog and web-based streaming services. Like the Comcast Corp. (Nasdaq: CMCSA, CMCSK) X1 remote, the Vox remote uses a conversational interface so viewers can query and command the Tivo system with sentences like "Show me movies with Tom Cruise" and follow-on refinements like "Only the comedies." However the Vox remote also plugs into unique Tivo features like SkipMode and OnePass, letting users say a single command to skip over an entire commercial break or create a library of episodes from a particular show that may be scattered across different broadcast and online sources.
The Hydra interface adds personalization to the Tivo guide. In addition to weaving new metadata and artwork into the menu screens to make finding content easier, the new UI includes a QuickView feature for seeing what shows are currently playing on different tuners, Tivo-recommended content, favorite channels and a one-line channel guide.
Interestingly, the Vox remote is designed to work not only with existing Tivo Bolt boxes, but also TiVo Roamio and first-gen Tivo Mini set-tops. The accessory is priced at $40 for Bolt customers and $45 for Roamio and Mini owners with the addition of a separate Bluetooth adapter.
The newest Bolt boxes come in 500GB and a 1TB storage models, with prices starting at $200. There's also a 3TB version of the Bolt set-top, but that product will only be made available to the service provider market.
The 4K Ultra HD Tivo Mini Vox will retail for $180. All of the new Tivo Vox products will officially go on sale starting October 29.
---
Want to know more about video and TV market trends? Check out our dedicated video services content channel here on Light Reading.
---
Tivo's financials have improved in recent months, with expected revenue rising slightly to an estimated $810 million to $830 million for the year. And the company has made headway in its patent lawsuit against cable giant Comcast. (See Tracking TiVo's Ups & Downs and TiVo Boosts Financial Outlook.)
However, the company's primary gains have come in the service provider space; so much so that Tivo doesn't even appear to break out retail revenues in its earnings reports anymore, a change that apparently occurred after the Tivo/Rovi merger. At the end of the first quarter of 2016, when Tivo still listed retail subscriptions, the company reported 974,000 total cumulative retail subscribers. That compared to 6.15 million Tivo customers in the pay-TV operator market.
There's also the undeniable fact that Tivo's consumer hardware products are far more expensive than media streaming boxes from companies like Amazon and Roku. On the one hand, the Tivo DVRs boast significantly greater functionality -- the ability to record video, for instance. On the other hand, it's still not clear if Tivo's appeal is enough to overcome both the initially-higher price point and the monthly service fee that the Tivo set-tops require.
For now, it looks like Tivo is willing to continue investing in the retail hardware market despite an uphill battle. Perhaps it's worthwhile just to keep the iconic consumer brand name alive. The question is, will the company keep the retail hardware channel going in the future? Or will it eventually drop the business as executives have indicated in the past? (See TiVo May Exit Retail Hardware Business.)
Only time will tell.
— Mari Silbey, Senior Editor, Cable/Video, Light Reading