Following another wave of deployments, Charter Communications is close to completing the rollout of DOCSIS 3.1 across the vast majority of its US footprint.
Charter Communications Inc. said this week it has launched Spectrum Internet Gig, its D3.1-powered product, to 12 million more US homes following debuts in markets such as St. Louis; Columbus, Ohio; Fort Worth, Texas; Greensville/Spartanburg, S.C.; and Louisville, Ky.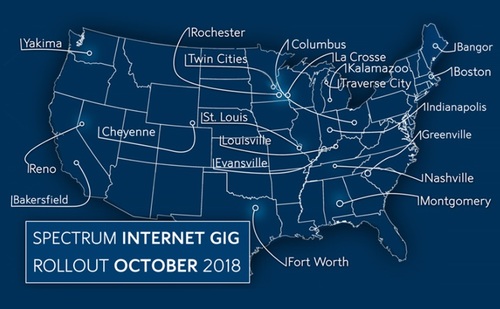 With those deployments factored in, Charter has deployed DOCSIS 3.1 to more than 95% of its footprint, putting it on track to have it available "virtually companywide" by the end of 2018, an official said.
If it meets that goal, Charter will have taken about a year to get D3.1 deployed across the board. Its first deployment, in Oahu, was lit up in December 2017, followed by an expansion to 23 million homes in the spring of 2017, and about 10 million more homes via two tranches -- 4 million in June and 6 million homes -- over the summer.
---
Boost your understanding of cable's pioneering virtualization efforts, examine early trials and pilots and look at what comes next. You're invited to attend Light Reading's Virtualizing the Cable Architecture event, a free breakfast panel at SCTE/ISBE's Cable-Tec Expo on October 23 in Atlanta.
---
Charter's cap-free offering, targeted to the higher end of the market, runs $104.99 per month under a promotional price for new customers, and $125.99 per month under its regular price.
The service matches downstream speeds near 1 Gbit/s and an upstream that maxes out at 35 Mbit/s. Charter is also eyeing Full Duplex DOCSIS, an extension to D3.1 that will enable symmetrical gigabit speeds and put the MSO in better position to match up with the upstream capabilities offered by telco competition that's armed with FTTP-based broadband options. (See Frontier Goes Gigabit in Its Fios & Vantage Fiber Footprint.)
Charter's D3.1 deployment is also nearing the finish line as the MSO prepares to face off with pockets of new competition in the form of 5G-based fixed wireless services. However, company executives have been playing down that threat as it eyes Full Duplex DOCSIS and moves ahead with an "inside-out" mobile/wireless strategy that will co-mingle its in-home capabilities with the macro network it has access to via its MVNO deal with Verizon Wireless . (See 5G Fixin' to Become 'Largest Existential Threat' to Broadband Providers – Analysts, Charter's Spectrum Mobile goes full market and Charter's 'Inside-Out' Wireless Plan Starts to Take Shape.)
"I think ten years from now, we'll have 10-Gig symmetrical [service] everywhere," Charter CEO Tom Rutledge said during a recent investor event. (See Charter Chief Shrugs Off 5G Threat and 5G Speeds Can't Match DOCSIS 3.1, Charter CFO Says.)
— Jeff Baumgartner, Senior Editor, Light Reading