Is DOCSIS 3.1 Losing Its Lustre?
Is the DOCSIS 3.1 rose already losing its bloom?
Even as the world's biggest MSOs start to roll out DOCSIS 3.1, the new, multi-gigabit-enabling spec lost its crown as the cable industry's leading next-gen tech priority in a recent Light Reading community poll: Having been the clear winner in the same poll conducted a year ago, D3.1 has slipped to second place in the rankings.
Instead, Distributed Access Architecture (DAA), which finished a strong second in the LR community poll last year, led the pack in the new survey. Slightly more than one quarter (26%) of the 1,108 poll respondents chose DAA as the top next-gen technology priority for the industry, up from 22% last year.
The result reflects the growing importance of disaggregated functions, as DAA calls for at least partial virtualization of the cable headend by shifting some or all of the data and video processing functions from the headend to the network fiber node.
The DOCSIS 3.1 spec, which is designed to enable broadband speeds of up to 10 Gbit/s downstream and 2 Gbit/s upstream over cable's hybrid fiber-coaxial (HFC) networks, came in a close second with 23% of the votes. While certainly not cataclysmic, that's down from last year's stellar performance, when it was selected by nearly 36% of voters.
Although these poll results are not definitive, DOCSIS 3.1 may well be fading as a priority for the industry because of growing cable operator interest in pursuing fiber-to-the-home (FTTH) builds to deliver gigabit broadband speeds and better video service. In a sign of that rising interest, FTTH finished a healthy fourth in this year's reader poll, attracting 14% of the votes. (See Why D3.1 Isn't on Every Cableco Agenda.)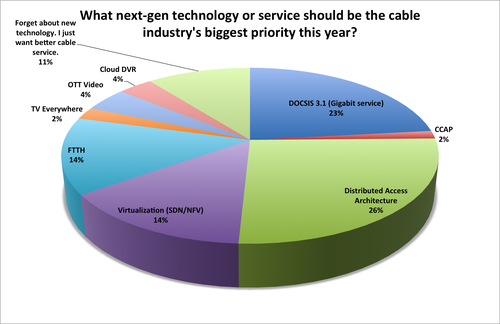 At the same time, DAA may be drawing more interest as cable operators confront the growing bandwidth challenges that will face them over the rest of the decade. Once an obscure topic confined mainly to cable engineering circles, the technology and the various options for implementing it have started to emerge as hot issues. (See Fueling the Distributed CCAP Debate.)
A related technology, virtualization, also registered with a decent share of survey respondents. More than 14% of voters chose virtualization, or SDN/NFV, giving that technology a narrow third-place finish just ahead of FTTH. No other tech choice came even close to reaching the double-digit percentages.
Not too surprisingly, a fair number of survey respondents once again advised service-challenged cable operators not to bother with any new technology options this year. Instead, nearly 11% urged operators to forget about new technologies and just focus on delivering better cable service.
— Alan Breznick, Cable/Video Practice Leader, Light Reading
PARTNER PERSPECTIVES
- content from our sponsors