Cox is expanding its fiber footprint outside its cable footprint.
The cable operator this week announced it's making a strategic investment in Unite Private Networks (UPN), giving it a joint ownership stake in the company with Ridgemont Equity Partners and UPN's own management team. UPN boasts 6,200 route miles of fiber in its portfolio and connects directly to 3,750 on-net buildings. Terms of the deal were not disclosed, and the transaction is still subject to customary approvals.
What's particularly interesting about the investment is how much of UPN's network assets are outside Cox Communications Inc. 's existing cable footprint. UPN's fiber is located primarily in the central part of the US, covering metro regions that include Denver, Dallas and Kansas City, among several others. Cox operates in some of the same areas, but by no means all.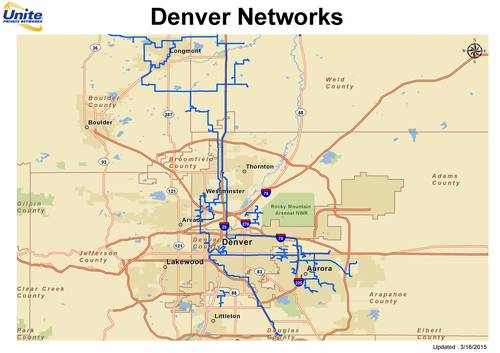 UPN's services, meanwhile, dovetail well with Cox's enterprise offerings. Cox was early to the cable commercial services game and has been one of the cable pioneers in introducing business connectivity solutions, including metro Ethernet, data center services and even managed WiFi. As a private company, Cox doesn't publish revenue numbers, but Heavy Reading estimates that the cable operator earned around $2 billion from commercial services last year, putting it behind only Comcast Corp. (Nasdaq: CMCSA, CMCSK) and Charter Communications Inc. in the US cable market. (See Cable Eyes the Enterprise Prize.)
The nation's cable companies as a whole have largely stuck to their own regional footprints even for business services. However, with the announcement that it would start targeting Fortune 1000 customers last year, Comcast began testing the idea of a national business services architecture. Comcast also suggested last December that it would spearhead a national cable-first initiative to unite the larger cable companies and pool assets in an effort to better serve large business customers.
That initiative, though, was perhaps more talk than action. Cable executives from Charter and Cox later downplayed the notion, saying that the cable industry is happy to partner with all types of network operators, and not just other cable companies, to serve business customers. (See Comcast Business Targets Fortune 1000 and MSOs: We're Not Building National Biz Net.)
Regarding the new deal with UPN, Cox has said the company will "operate as a stand-alone business within the Cox family of companies." For now, that sounds like Cox will treat UPN as primarily a financial asset rather than an operational one.
The door is open, however, for Cox to use its new UPN assets to boost its own commercial services business in the future. Such a move would mean a further opening up of the cable industry and would perhaps be a sign that cable companies won't be just regional players forever.
— Mari Silbey, Senior Editor, Cable/Video, Light Reading