SAN FRANCISCO -- Web 2.0 Expo -- There's plenty to learn at this week's Web 2.0 Expo, and some of it's even meaningful!

For instance:


The hot new color for startups: orange.


The hot new giveaway: customized M&Ms. Well, only two booths had them, but Light Reading spent a lot of time at those two booths.
Snarky comments aside, Web 2.0 is about more than just spamming your friends with meaningless information about your day. Plenty of enterprise services are sprouting there, and some applications even have relevance to the carrier space.

Here are a couple of examples.


Infungo is a place-shifting service for TV, similar to the capabilities offered by Sling Media Inc. . But there's no box; Infungo is software-based, and therefore cheaper.


Obviously some hardware is required: Your TV and computer have to be networked together, and the computer needs a TV tuner that can be bought at any electronics store, or from Infungo if you prefer. But from there, it's a matter of downloading Infungo's ActiveX client to that PC, and then leaving the TV and PC on, of course.

Once it's set up, your TV content can be viewed on portable devices or other computers. Added features include game widgets, RSS feeds for user sharing sites, and video mail.

Infungo, which appears to have been called My-IPTV at first, got started less than a year ago. It's not really a company yet, but a project inside South Korean software vendor Honest Technology Inc.

The plan is to spin off Infungo, but for now, the team is still figuring out how to make money from the service. One possibility is to bundle it with TV tuners, and Infungo already has several partnerships along those lines, according to Paul Lee, the outfit's team leader for strategic planning and systems development.


Nirvanix, meanwhile, calls itself a "storage delivery network," which is like a content delivery network (CDN) without the streaming capabilities.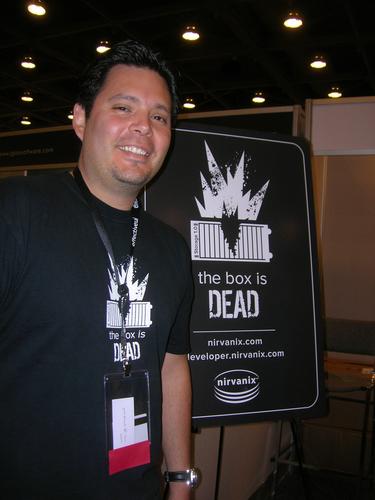 The emphasis is on the storage aspect. Nirvanix keeps masses of data that might be demanded at any moment, but that will spend most of its time in the vault -- any movie in a video-on-demand library that stars Madonna, for example.

"We're like a CDN supplement," says Adrian Herrera, Nirvanix's director of marketing. "CDNs do allow you to store content with them, but they're expensive."

Another big difference: The data moves around depending on demand, making Nirvanix a bit more flexible than a typical CDN. "When we see a lot of content being accessed from a particular part of the world, we move the content over there," Herrera says.

Video is an obvious market for the startup, but Nirvanix could also be used for storing plain old data. Regulations in the financial and healthcare industries have created a need for vast data stores that can be accessed quickly.

Nirvanix sort of has its roots on the storage side. Founder Patrick Harr's many jobs included a stint as a marketing executive at Sanera Systems, the storage networking startup acquired by McData Corp. (Nasdaq: MCDTA). (See Sources: McData to Buy Sanera, Can $35M Save Sanera?, and McData Sweeps Up Nishan, Sanera.)

The company is about a year old, and it's raised money from sources including Intel Capital , Mission Ventures , Valhalla Partners , and Windward Ventures .

— Craig Matsumoto, West Coast Editor, Light Reading