Welcome to the cable news roundup, T.G.I.F. edition.


The Nielsen Co. was careful not to fan the cord-cutting flames, but its latest Cross Platform Report (PDF, registration required) shows that the number of U.S. homes with broadcast-only TV and broadband jumped 22.8 percent since the third quarter of 2010. Nielsen estimates that there are 5.1 million homes in that category, after 1 million joined in during the 12-month period. However, 90.4 percent of U.S. homes still pay for a TV subscription, with the number of homes paying for both TV and broadband subscriptions rising 5.5 percent. Nielsen also found that homes with broadcast TV-plus-broadband streamed twice as much video as the general cross-platform population, but watched half as much TV. Despite a big gain among a relatively small group of homes that don't pay for TV but subscribe to broadband, Nielsen downplayed the cord-cutting implications: "Whether they're cord-cutters or former broadcast-only homes that upgraded to Internet service, these homes represent a very small but growing group of U.S. consumers."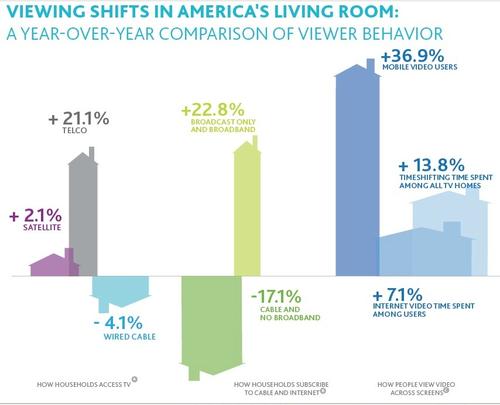 Roku Inc. 's taking orders in the U.K. and Ireland, signaling the company's launch into Europe. The suggested retail price for the Roku LT is £49.99 (US$78.89), with the Roku 2 XS going for £99.99 (US$157.77). Amazon.co.uk is the first to take pre-orders, but Roku expects to announce additional U.K. retailers later this year. In addition to old standbys like Netflix Inc. (Nasdaq: NFLX), Roku is also integrating British Broadcasting Corp. (BBC) 's iPlayer.


Despite Netflix's own fears that Amazon.com Inc. (Nasdaq: AMZN) will launch a standalone competitor soon, Amazon has no near-term plans to do so, reports NewTeeVee. For now, Amazon says it will stick to bundling its streaming video package into its Prime Instant Video service, which runs for $79 per year, and continue to sell and rent one-off videos to all comers. (See Netflix Bracing for Clash With Amazon .)


Arris Group Inc. (Nasdaq: ARRS) believes it can turn its Moxi video gateway into a $100 million business as it secures more MSO deals, but the vendor's support for Moxi HD-DVRs sold at retail will come to an end. Arris, which no longer sells boxes at retail, notes here that it will stop sending program data and halt technical support for those devices on Dec. 31, 2013. (Hat tip: @davezatz). (See Arris Expects a Rosy 2012.)

Update:That date apparently isn't set in stone, but a worst-case scenario. Arris said it will probably end up supporting Moxi retail products beyond December 2013 if there's continued interest from Moxi users. Arris estimates that there are fewer than 5,000 retail Moxi units out there.


Optimum Lightpath , Cablevision Systems Corp. (NYSE: CVC)'s big business services arm, has launched a suite of flat-rate Ethernet services tailored for local governments, including E-Line, V-Line and audio and Web conferencing packages. It's already won deals with New Jersey's Wayne and Jefferson townships, and Westchester County in New York.


OTT video startup Blip Networks Inc. (it's no longer called Blip.tv) raised $12 million, extending its total funding to $24.5 million. It'll use the infusion to fund content development and beef up its advertising and distribution platforms.

— Jeff Baumgartner, Site Editor, Light Reading Cable