7 Things to Know About Your Future TV
The connected TV is on the verge of a lot of great things, according to speakers at this week's Connections, a conference series put on by
Parks Associates
. But a lot of potential remains several steps away, as consumers get more acclimated to technology and as operators find more ways to exploit the cloud.
Here's what we took away from some of the Connections panels.
1. The cloud is coming home.
The suggestion came up that a box could send video traffic around the home network, using the
Digital Living Network Alliance (DLNA)
standard. But the other participants thought most development in this area was going to be cloud-based. "The problem today is that the platforms don't really have the memory space, and the consumer experience becomes a wait for the ad to pop up," said Russ Shafer, head of marketing for
Yahoo Inc.
(Nasdaq: YHOO)'s Connected TV.
2. But not any time soon.
"The infrastructure required to put everything in the cloud is humongous," said Paddy Rao, vice president of products for Sling. He knows that because he's been watching
EchoStar Corp. LLC
(Nasdaq: SATS), Sling's new corporate overlord, put content up on the cloud. So, while the idea is nice, it's still expensive, and it's unclear how long it would take to recoup that money.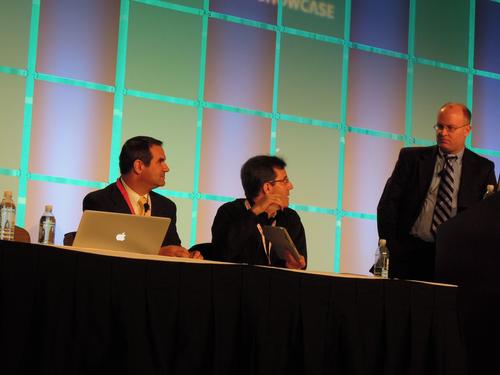 3. Free samples work.
Bismarck Lepe, a founder of
Ooyala Inc.
, described his company's experiment with trying to get people to pay for video. Ooyala used a range of prices and, maybe more importantly, a range of time spans for a free preview window, from 30 seconds up to nine minutes.
A couple of arbitrary data points: When the preview window was stretched to three minutes, rather than two, revenues doubled. Likewise, when the price shrank to 49 cents from 99 cents, revenues doubled again.
4. People still love their broadcast TV.
Ammo for those who don't believe in cord-cutting: 93 percent of the people in an
Ericsson AB
(Nasdaq: ERIC) study were found to still watch broadcast TV. "So, this idea of cord-cutting is incorrect," said David Price, an Ericsson vice president of business development (who was representing the MPEG Industry Forum on one panel).
Well, that's
one opinion
.
5. Moore's Law is going unused.
The processing power in the set-top box is always going up, but "we're not using it," said Jaime Fink, senior vice president of technology for
Pace plc
. Part of it is because a lot of the work is happening in the network rather than the box. There's also the fact that set-top boxes don't have armies of app developers the way smartphones do.
6. The user interface counts for a lot.
It's the main reason why Netflix has caught on with online consumers, said Jim Funk, a vice president with
Roku Inc.
"People really like the experience," he said. "Although the numbers are pretty small, they're growing."
On a separate panel, the same point was made by Edgar Villalpando, senior vice president of marketing for
ActiveVideo
"The reason Netflix is successful isn't their library of content. It's good, but it's not because of that. It's because they have really good navigation," he said. He added that better navigation -- abilities that go beyond the remote control -- is what most operators are asking for. (See points 1 and 2.) But:
7. You won't have to wave at your TV.
At least Peter Schwartz, senior director of product management for
Vizio Inc.
, thinks you won't. His company has been looking at Microsoft Kinect, which reads body movements, to see if it's an option for replacing the remote control. He didn't sound convinced.
What's more likely, and more obvious, is that the flood of interest in smartphones and tablets will turn those devices into remote-control options. "There'll be a lot of innovation in interfaces using portable devices," said Roku's Funk, and we're not quoting that just to be able to say "Roku's funk." (Well, maybe.)
— Craig Matsumoto, West Coast Editor,
Light Reading
PARTNER PERSPECTIVES
- content from our sponsors