Cohere Networks Inc. , the cable access startup sparked by Terayon Communication Systems founder Shlomo Rakib, appears to be ready to rock and roll after landing US$22.8 million in funding and assembling an executive team led by CEO Drew Perkins, the ex-CTO of Infinera Corp. (Nasdaq: INFN).

Perkins isn't the only big name involved. Light Reading Cable has learned that the funding round included two Silicon Valley heavyweights: Andreessen Horowitz, the firm co-founded by Marc Andreessen of Netscape fame, and New Enterprise Associates (NEA).

The funding, Cohere's first round, was noted in a Securities and Exchange Commission (SEC) filing dated Sept. 26, which didn't identify investors.

Perkins came on board in January, according to his LinkedIn profile. He was CTO of Infinera from May 2001 to January 2012. (See Infinera CTO Departs.)

Terayon 2.0: 'Game changer?'
Cohere still isn't saying anything about what it's doing. In a response to an inquiry late last week, Rakib told Light Reading Cable via email that Cohere is "focusing our energies on development, and it is still too early for us to talk." That point is amplified on the company's sparsely populated website, which boasts: "We're changing the game for cable operators."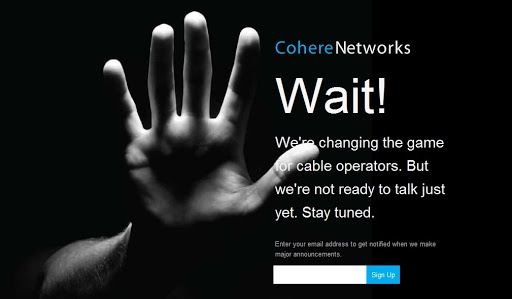 But how exactly does Cohere intend to change the game? It appears that Rakib's vision is to help cable take Docsis to the next level.

Terayon, as many will recall, was a Docsis pioneer and maker of cable modem termination systems (CMTSs) and modems. According to industry sources, Cohere is taking a fresh approach on the cable access network by distributing the CMTS function deeper into the network. Some sources have referred to the idea as "scaling Docsis" or the equipment as a "micro CMTS." (See Terayon Founder Plans Access Revolution.)

With a decentralized CMTS, Docsis transport signals would remain in a digital format longer -- all the way to the node. That could be important as cable operators pursue higher-order modulation that can push more bits per hertz per second and make their existing spectrum more efficient.

Higher-order modulation and improved spectrum efficiency -- about 50 percent -- are among the key drivers of Docsis 3.1, the CableLabs specification that is targeting future downstream speeds of at least 10 Gbit/s downstream and 1 Gbit/s upstream. Today's Docsis downstreams run 256 QAM modulation, but Docsis 3.1 envisions the use of 1024 QAM or even 4096 QAM both downstream and upstream. (See Docsis 3.1 Targets 10-Gig Downstream and Docsis 3.1 Will Change Cable's Data Channels.)

But some engineers contacted by Light Reading Cable already wonder if today's centralized Docsis and QAM architectures can fight through plant impairments well enough to handle those modulation schemes. A more distributed approach that stretches the digital-to-analog conversion deeper into the network could become part of the answer.

And the idea isn't completely new. Aurora Networks Inc. , for example, is pitching the Node QAM, which, as the name suggests, packs the QAM function at the node. Aurora expects the Node QAM to reach general availability in the first quarter of 2013 and has already signed a Tier 2 operator to run trials on the product next month, John Dahlquist, Aurora's VP of marketing, said at last week's Society of Cable Telecommunications Engineers (SCTE) Cable-Tec Expo. (See Aurora Plugs In Remote QAM.)

Page 2: Cohere's hiring spree