With a new product release today, Quantum Bridge Communications Inc. has taken another step away from being simply a vendor of passive optical network (PON) equipment.

Its new box, the QB3000, is designed for the basement of multitenant office buildings and enables service providers to offer Ethernet connections to multiple customers, via a link to the carrier's central office or point of presence (POP). That link can run over a dedicated fiber, or it can be combined with connections to other buildings using an optional PON card (see Quantum Bridge Introduces New Switch).

If PON cards are used, then the connections can terminate in Quantum Bridge's larger, more expensive existing product, the QB5000, in the service provider's central office.

As another alternative, a new 16-port T1/E1 card can be used to link customer premises to the carrier network.

"We realized some of our metro customers required a slightly different set of features to reach small and medium-sized businesses," says Steve Hersey, Quantum Bridge's managing director, product planning. "PON is great, but other applications are needed," he notes.

Originally, Quantum Bridge felt PON was great, full stop. It set out to become the leading supplier of equipment that enables a single access line to be used to connect multiple buildings (see PONs: Passive Aggression). However, the PON market has been slow to get off the ground -- and, as a result, Quantum Bridge has been busy extending its offerings to target a wider range of potential customers.

Quantum Bridge now talks about being an "access platform" rather than a PON vendor. And last month it started backing up this claim by adding cards supporting ATM (asynchronous transfer mode), TDM (time-division multiplexing), and OC3/OC12 Sonet connectivity to the QB5000 (see Quantum Bridge Slots In ATM). These optional cards will fit the new QB3000 too, the vendor says.

To offer switched Ethernet access, Quantum Bridge has packed a 24-port Ethernet switch into its new box, adding extra security to suit carriers. According to Quantum Bridge, the security includes a separate spanning tree sequence added to each port, and support of IEEE 802.1q virtual LANs for the entire system.

This brings Quantum Bridge into competition with a host of powerful existing players, ranging from switch vendors like Extreme Networks Inc. (Nasdaq: EXTR) to next-generation platform makers like Appian Communications and Ethernet specialists like World Wide Packets Inc.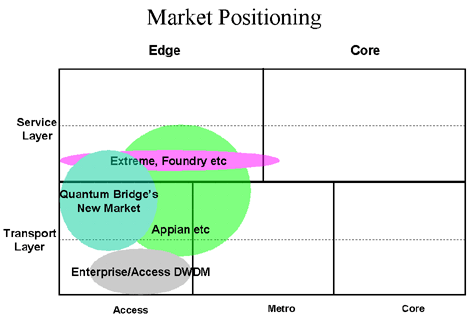 "Competing with more vendors will be a challenge, but PON could be a differentiating factor for Quantum Bridge," says Andrew McCormick, senior analyst with Aberdeen Group Inc..

The move into access, however, brings Quantum Bridge up against some obstacles. For one thing, its box is still based on ATM. In other words, it's not suitable for service providers deploying all-Ethernet metro networks, such as Telseon and Yipes Communications Inc.. Quantum Bridge is looking to change that, says Hersey, by basing its platform on Ethernet. But Hersey does not give any dates for delivery of a revamped model.

Quantum Bridge also doesn't support DWDM (dense wavelength-division multiplexing). But this may be less of an obstacle than it appears to be right now. "I can't tell you any more than that the situation will change on March 19," Hersey says. Apparently, the company plans to announce DWDM support at that time. But the nature of that support is still unknown.

One thing is certain, however: Quantum Bridge is in a hurry to make its presence felt in the access market. The company has filed for IPO in a time when market challenges are especially strong (see Quantum Bridge Aims for IPO). To succeed, the company needs to establish itself -- and quickly.

-- Mary Jander, senior editor, Light Reading http://www.lightreading.com