CableLabs Cheers Casa Chassis
CableLabs
has awarded "Full" Docsis 3.0 as well as PacketCable 1.5 qualification to a new cable modem termination system (CMTS) chassis from
Casa Systems Inc.
that, the vendor claims, is fully redundant -- a requirement for most cable-fed VoIP services.
That product, dubbed the C10200, will do the competitive tango with carrier-class CMTS chassis from
Arris Group Inc.
(Nasdaq: ARRS),
Cisco Systems Inc.
(Nasdaq: CSCO), and
Motorola Inc.
(NYSE: MOT).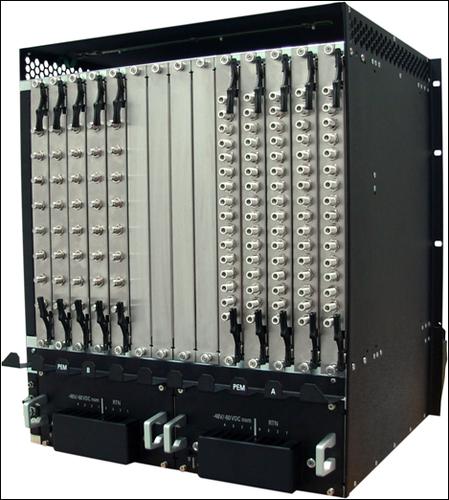 So far, Casa Systems, a startup based in Andover, Mass., is the only CMTS vendor to obtain the coveted Full Docsis 3.0 qualification designation from CableLabs. Other CMTS vendors, including Arris, Cisco, and Motorola, have yet to get past the "Bronze" level, which includes features such as downstream channel bonding and IPv6. Silver qualification adds in upstream channel bonding, and Full (obviously) includes everything covered in the Docsis 3.0 specs.
CableLabs granted Full Docsis 3.0 qualification to Casa Systems's C10200 CMTS following Wave 64. Two other Casa Systems CMTS models -- the C2200 and the C3200 -- obtained Full Docsis 3.0 qualification in previous test waves. Here's an updated list of CMTSs that have gained the Docsis 3.0 stamp:
Table 2: Docsis 3.0-Qualified Cable Modem Termination Systems (CMTSs)
Vendor
Product
Wave qualified
Highest level of 3.0 qualification achieved*
Arris
C4 CMTS
56
Bronze
Casa Systems
C2200 CMTS**
58
Full
Casa Systems
C3200 CMTS
58
Full
Casa Systems
C10200
64
Full
Cisco
uBR10012
56
Bronze
Motorola
BSR64000
58
Bronze
* CableLabs presently uses a tiered CMTS qualification system, awarding "Bronze," "Silver," and "Full" designations based on the product's supported features. That tiered system is expected to sunset in early 2009.
** Casa's C2200 CMTS won Silver qualification in Wave 56.
Source: The companies and CableLabs.
CableLabs has not officially announced it, but it's expected that the Louisville, Colo.-based R&D house will sunset the Bronze qualification level early next year, meaning CMTS vendors will have to shoot for Silver or better in subsequent test waves.
How much good obtaining Full qualification will do for Casa Systems remains to be seen. The vendor has yet to announce any trials or deployments, which has caused some (
us, for instance
) to wonder if the company could become a coveted acquisition target for an existing CMTS vendor or a more established supplier that is looking to attack the Docsis 3.0 sector head-on as MSOs around the world start to deploy wideband Internet services.
But, according to Casa Systems CEO Jerry Guo, his company does have some deals cooking, and expects to announce "several deployments" in short order. "We are not qualifying [CMTSs] just for the fun of it... We are deploying [CMTSs] in very large scale," Guo noted in an email to
Cable Digital News
.
Orient Telecom joins the Docsis 3.0 club
The cable modem side of Docsis 3.0 welcomed a new certified vendor -- Orient Telecom, a South Korea-based company that got the stamp for a model that CableLabs lists as the "ORT3100."
SMC Networks Inc.
also won Docsis 3.0 certification in Wave 64 for the SMCD3G-BIZ, a four-port Ethernet cable modem gateway with an 802.11n option.
Netgear Inc.
(Nasdaq: NTGR) also got the OK for an embedded multimedia terminal adapter (E-MTA). Fourteen modem models have obtained Docsis 3.0 certification through Wave 64. Here's an updated list:
Table 1: Docsis 3.0-Certified Modems and E-MTAs
Vendor
Product
Certification Wave approved
Ambit
U10C035
58, 63**
Arris
Touchstone 702G Embedded Multimedia Terminal Adapter
58, 59*, 63**
Arris
WBM750A
59, 63**
Cisco
DPC3000
58, 63**
Cisco
DPQ3202
60, 63**
Hitron
BRG-35503
61, 63**
Motorola
SB6120
58, 63**
Motorola
SBV6220
58, 59*, 63**
Netgear
CMD31T
60, 63**
Netgear
CVD31XT
64
Orient Telecom
ORT3100
64
SerComm Corp.
FM301T
63
SMC
SMCD3CM
58, 63**
SMC
SMCD3G-BIZ
64
*Device re-certified for Docsis 3.0 and obtained initial PacketCable 1.5 certification in Wave 59.
** Device re-certified for Docsis 3.0 in Wave 63.
Source: CableLabs and the companies
According to the latest CableLabs schedule, Certification Wave 65 will begin in mid-January, with published results expected by mid-April.
— Jeff Baumgartner, Site Editor,
Cable Digital News
Like what we have to say? Click here to sign up to our daily newsletter
Cable Next-Gen Technologies & Strategies – Making cable faster, broader, deeper, better
If you want to know where the cable tech space is heading, we've got you covered. Join the biggest names in the industry in Denver, CO on March 14 & 15 for the latest edition of Light Reading's Cable Next-Gen Technologies & Strategies conference.
Back for a record 16th consecutive year, Cable Next-Gen is the premier independent conference covering the broadband technology market. This year's edition will tackle all the top tech topics, including 10G, DOCSIS 4.0, Distributed Access Architecture, next-gen PON, fixed wireless access, network virtualization, the Digital Divide and more
Get your free operator pass here.
PARTNER PERSPECTIVES
- content from our sponsors