Motorola Inc. (NYSE: MOT) raised some eyebrows Thursday with a report proclaiming that its flagship cable modem termination system (CMTS), the BSR64000, is the "greenest" of the lot.

The posting, published under the understated headline, "The Greatest, Greenest CMTS," claimed that the Moto CMTS requires less energy on a per data stream basis than competing products from Arris Group Inc. (Nasdaq: ARRS) and Cisco Systems Inc. (Nasdaq: CSCO) using "publicly available data" from the Websites operated by each party.

Here's how Moto's comparison stacked up for "integrated" CMTS architectures that put downstream and upstream ports in the same box, basing findings on channels per chassis and the number of Docsis 3.0 streams produced per watt.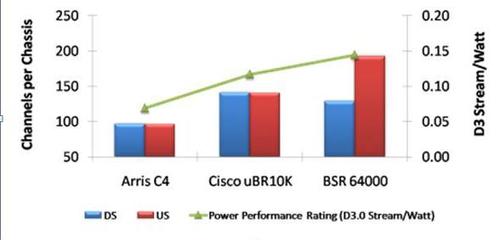 Motorola used similar data to put together this next exciting chart, which illustrates the costs of powering and cooling a CMTS per Docsis 3.0 stream, with Motorola's performance, once again, well out in front of its rivals. [Ed. note: Moto's power comparison didn't factor in the CMTS chassis from startup Casa Systems Inc. ] (See Casa Systems May Go It Alone .)





Moto's latching on to a familiar trend. The Society of Cable Telecommunications Engineers (SCTE) has started a power-shaving project called the Smart Energy Management Initiative (SEMI), just one example of the broadband equipment industry trying to make power conservation a selling point. (See Cable Travels Green Road With 'SEMI' and SCTE Drives Green 'SEMI'.)

Arris begs to differ
Arris was quick to weigh in on Motorola's findings (we've asked Cisco to do the same), and said the comparison isn't a completely fair one in part because of the way the report weighted downstream and upstream ratios, and because the data Moto used does not factor in the denser CMTS blades that Arris is developing.

The upstream/downstream ratio is important, because it generally requires more energy to power Docsis downstreams, says Todd Kessler, VP of CMTS product management at Arris. Motorola's model appears to show a heavily weighted upstream configuration for the BSR64000, and a more symmetrical setup for the Arris C4 and the Cisco uBR10012 CMTS models.

"The fewer downstreams you have in a configuration, the better you will be" when it comes to power consumption, Kessler says. He acknowledges, however, that the "standard configuration" for an Arris C4 is 96 downstreams and 96 upstreams, but notes that the company's CMTS could also be set up to support 120 upstreams and 80 downstreams, and that configuration would give it a more favorable reading against Motorola's.

Motorola's post did not specify its downstream and upstream card configuration, but the company later told Light Reading Cable via email that the setup used for this particular power rating comparison used four TX32 cards (plus one for redundancy) for a total of 128 downstreams; and four RX48 cards (plus one for redundancy) for a total of 192 upstreams -- giving the BSR 64000 320 streams total.

Kessler countered that Moto's comparison in this case is also "skewed" because it contrasts data from Arris C4 hardware that's been shipping for two to three years with Moto's newest line of dense CMTS blades. Moto's been shipping the TX32, a card with 32 dedicated downstream ports, for many months; it expects to see MSOs put the new upstream-heavy RX48 cards in the field starting in July, with volume shipments starting in the fourth quarter. (See New Moto CMTS Blade Paddles Upstream.)

Kessler says the power efficiency differences shown by the Motorola comparison will be much less dramatic when Arris rolls out its own denser CMTS blades (Arris calls them Cable Access Modules, or CAMs).

Arris hasn't specified a launch date for the new CAMs, but has indicated that it plans to double the density of its existing cards, so expect the new upstream CAM to support 24 ports, and the new downstream card to pack in 32 ports. Cisco, which hasn't issued a formal response to Motorola's report, also has some new gear on the way, including a new blade for I-CMTS architectures that supports 20 downstream and 20 upstream ports. (See Cisco Packs On Wideband Muscle .)

To be fair, Motorola did generate its report on the public data, but we'll be interested to see how rapidly it updates its findings and comparisons as it and its competitors announce new CMTS products.

— Jeff Baumgartner, Site Editor, Light Reading Cable