Cable broadband fighting investors' perceptions – analyst
Cable's path to DOCSIS 4.0 should provide ample capacity at palatable costs, but the industry continues to be dogged by investors' perceptions that fiber-to-the-premises (FTTP) is the clear – and perhaps only – path forward.
That's one high-level conclusion MoffettNathanson (a unit of SVB Securities) reaches in a new, lengthy report (registration required) sizing up the capabilities and costs of cable's upgrade path. The analysis also takes a deeper look into the somewhat divergent paths Comcast and Charter Communications are taking with their respective DOCSIS 4.0 upgrades.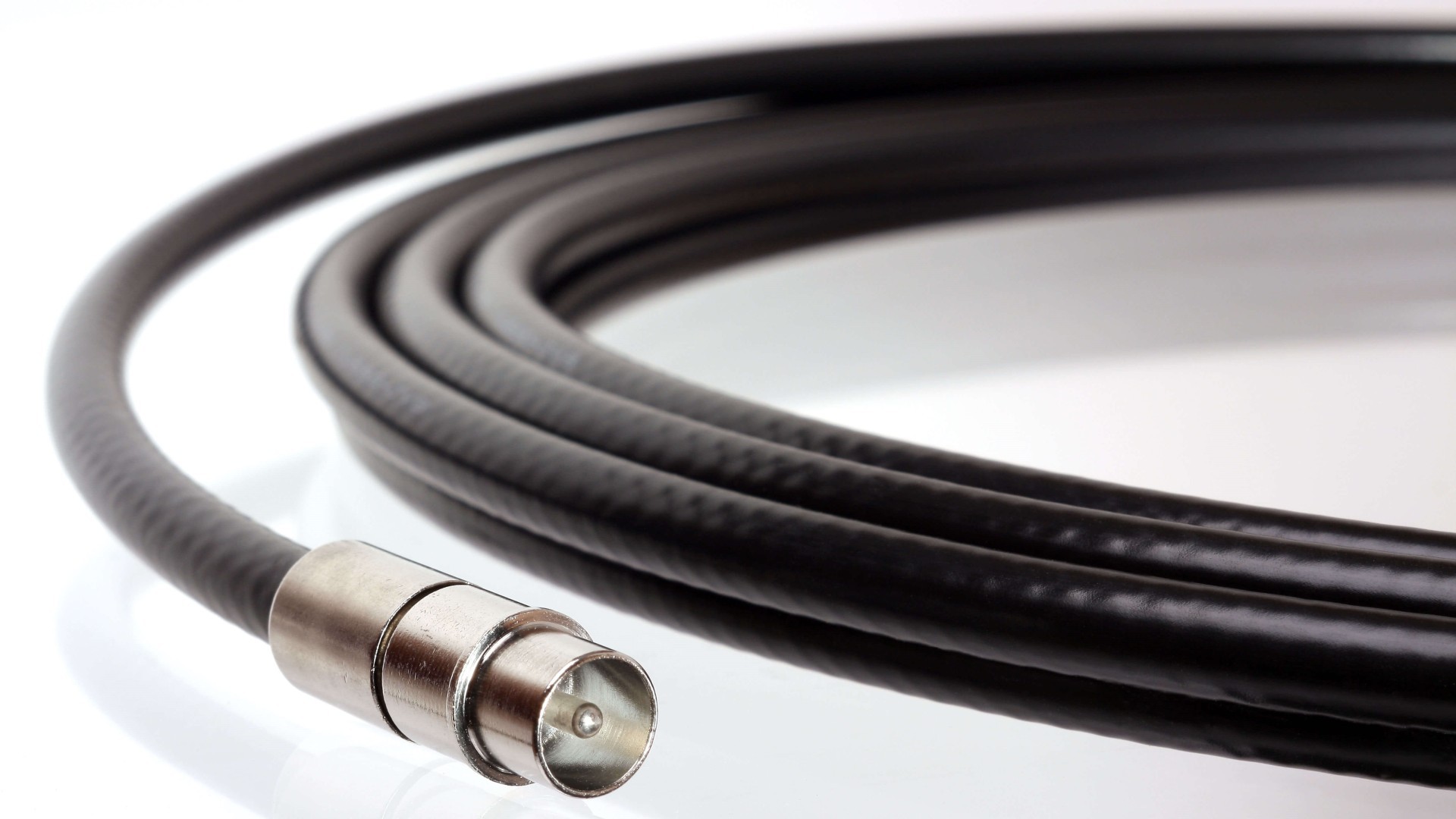 Analyst Craig Moffett points out that Charter's plans to accelerate DOCSIS 4.0 upgrades under a multi-phased, varied approach at a cost of roughly $100 per household was met last month with a decrease in share price. While the dip had more to do with Charter's buildout plans in rural areas than its D4.0 plans, "there was an undeniably negative reaction to EVERY part of their announcement," he notes.
Boiled down, Moffett believes this means investors doubt whether DOCSIS 4.0 will work. And even if it does, they remain skeptical about whether DOCSIS 4.0 will be sufficient to compete with fiber.
While network consumption remains relatively downstream-heavy, the pandemic put more focus on the perceived demand for upstream bandwidth. The upstream has emerged as a new "marketing battleground … and it is a battle that Cable is losing," Moffett says.
"It has become fashionable to assert that only FTTH will be sufficient and future-proof, and that Cable is destined for a period of technological inferiority," he explains.
Differing deployments
Adding to investors' confusion and skepticism, Moffett says, is that Comcast and Charter are adopting different approaches to DOCSIS 4.0 – and different cost profiles.
Charter expects to shell out about $100 per household passed for its general reliance on the Extended Spectrum DOCSIS (ESD) option for the D4.0 component of its upgrade. But that three-year network upgrade plan isn't uniform – Charter plans to upgrade about two-thirds of its footprint to 1.2GHz with a "high-split" upstream upgrade and the balance to 1.8GHz with a high-split. Together, Charter expects its DOCSIS networks to support at least 5 Gbit/s downstream and 1 Gbit/s upstream in 85% of coverage.
Meanwhile, Comcast anticipates "all-in" costs of less than $200 per household for its deployment of the more complex Full Duplex DOCSIS (FDX) flavor.
Comcast plans to deploy FDX across the vast majority of its hybrid fiber/coax (HFC) network, putting it in a position to deliver symmetrical, multi-gigabit speeds. The operator's per-household costs, while higher than Charter's, still came in at about half of what some industry watchers were expecting. Comcast is also waiting on the development of new FDX Amplifiers that will enable the operator to deploy FDX across the vast majority of its footprint.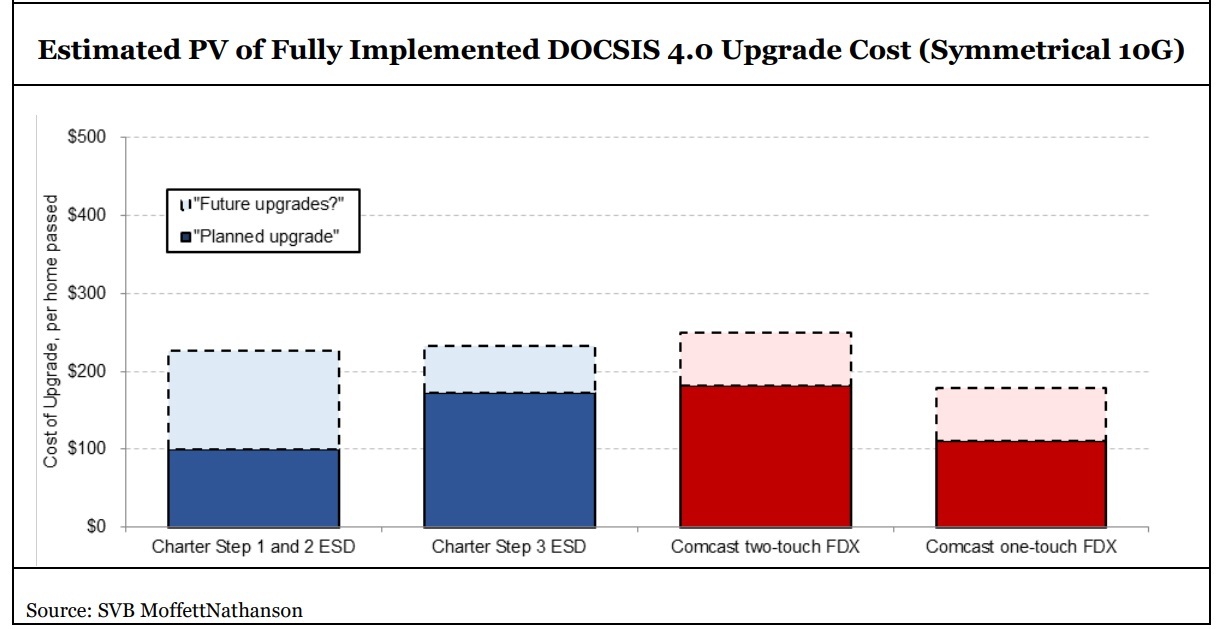 Still bullish on DOCSIS 4.0
Though DOCSIS 4.0 skeptics remain, Moffett notes that both approaches appear to be working, pointing to symmetrical, multi-gig demos that Charter and Comcast presented last year.
The FDX and ESD options for D4.0 "are each grounded in economic and competitive reality" and are well positioned to compete with FTTP, Moffett explains.
With respect to the future of home broadband, "there is a wide gulf between what is required (engineering) and what is demanded (marketing). Our analysis suggests that cable's DOCSIS upgrade path can satisfy both of these objectives," the analyst concludes.
And while there are outliers that are forgoing D4.0 in favor of FTTP upgrades – Altice USA among them – Moffett explains that the DOCSIS migration path remains the "preferred alternative" for most operators due to its "substantially better ROI [return on investment]" and "generous capacity runway."
Related posts:

— Jeff Baumgartner, Senior Editor, Light Reading
EDUCATIONAL RESOURCES

UPCOMING LIVE EVENTS
June 6-8, 2023, Digital Symposium
June 21, 2023, Digital Symposium
December 6-7, 2023, New York City
All Upcoming Live Events
PARTNER PERSPECTIVES
- content from our sponsors