A recent visit to Shenzhen afforded me the opportunity to meet with one of the most powerful women in the Chinese communications industry: Jane Chen, SVP and chief strategy officer at ZTE, at its impressive headquarters.
ZTE was kind enough to give Light Reading the full VIP treatment, including both compelling demonstrations of a variety of advanced technologies (everything from pre-5G, which it is already shipping, to advanced cloud, smart city, and optical solutions) as well as a frankly amazing Cantonese lunch.
I was hugely impressed by my experience at ZTE and was blown away by Chen's business technology philosophy, which, I think, comes through loud and clear in the following Q&A.
Enjoy the interview!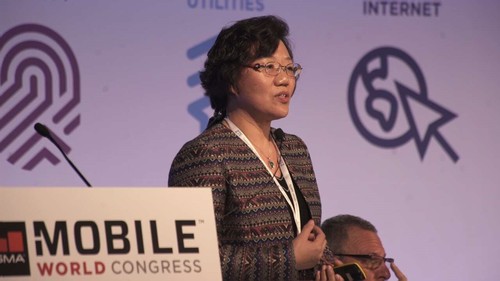 Steve Saunders: How long have you been in charge of strategy for ZTE, Jane?
Jane Chen: One month.
SS: Really?
JC: Yes, but I've worked at ZTE for many, many years.
SS: How many years?
JC: I joined ZTE in 1988, and then went to America, to New York.
SS: Where were you working?
JC: I studied there, then after I graduated I worked at AT&T Bell for almost ten years. And then I came back to ZTE in 2002. I was in charge of wireless products R&D for more than ten years.
SS: What is the most important technology for ZTE moving forward? Is it mobile, is it optical?
JC: All of them. Mobile is definitely a key area; 2G, 3G, 4G, and the future definitely lies with 5G. On the network site, optical and access, and the backbone, which holds it all together. Then there's the terminal; this is also a major part of our business.
SS: For the consumer?
JC: Yes.
SS: What about virtualization, things like NFV, SDN, are they important to you?
JC: Yes of course. We're very active in this area, with lots of discussions with operators. A lot of great progress.
SS: When you talk to your carrier customers, where are they in the journey towards virtualization? Are they still thinking about it or do they want you to give them solutions which they can deploy this year?
JC: We already have some real virtualization products. The customers are there already. We allow our customers to construct the network that will support their future strategy today. I think that this is our biggest strength.
SS: In China or in other parts of the world?
JC: Both. But definitely in China. Telecom operators all over China are starting to do this. This is the year that I think virtualization is in mass production already.
SS: Really?
JC: In certain areas, yes, not everywhere, because right now the industry is still working on the standardization of virtualization.
SS: Some service providers who have tried to deploy NFV, like Telefonica, have had a difficult experience because they tried to put together a solution from many different companies, based on open source specs. And that was harder than they thought it was going to be. So now there's a trend amongst some service providers to say "we just want to buy from one company, because it's safer. We don't want to buy from everybody and put it together ourselves." Do you think most service providers are going to want a pre-integrated or pre-certified solution from a single company as opposed to trying to put it all together now?
JC: It depends. Right now, for some parts of the technology you have multiple vendors. Some areas probably one or two; some areas, only one. But for operators to get the true benefits of a technology you need standardization first, so the vendors can get in sync. In the short term you can build with one vendor, sure, but if you look at the future, the long term, you need multiple vendors working together to deliver the true benefits. That is when the operator experiences better service, gets more ideas, more thinking.
SS: Do you have an ecosystem of vendors that you work with particularly, or do you just focus upon working with everyone within the open source and standards bodies?
JC:We work with the operator, because the operator takes the lead in the ecosystem.
SS: That's really interesting.
JC: Yes, it is best for them to lead the ecosystem. If you focus on building standards, you just get the standard. But the operator will build something that is based on their business's interest. So they pick the strongest solution providers in a certain area, which is the right strategy whether you are building a network or developing a standard. In some areas operators are only working with ZTE, in others it will be ZTE and two or three other vendors working together, and the operator will test our solutions and get them working together and that can then go on to form the basis of a standard. That's the best way to do it.
SS: Do you think there's a big difference between different geographies around the world in terms of how fast they're moving towards virtualization and cloud networking?
JC: It depends on what they are asking for and what they can afford. We know AT&T is definitely taking the lead [in the US] and they are pushing hard, and they have something implemented already which they feel is more efficient than the old network. But they still have a long way to go, which is why they have their 2020 plan.
SS: Do you think that by 2020 ZTE will be part of the AT&T network?
JC: We hope so. Our technology performs very well. A lot depends on the US government.
SS: Yes, that part is out of your control. Light Reading believes very strongly that ZTE and other Chinese manufacturers should be selling in North America, but it's not going to change under this administration. Maybe under the next one? Do you feel optimistic?
JC: It's complicated. It's hard to predict the future.
Next page: Finding MIMO