DALLAS -- AT&T Summit -- In an environment where new players are rapidly disrupting the communications industry, AT&T Inc. (NYSE: T)'s John Donovan said the operator and its enterprise customers must adjust to a data-driven ecosystem that drives automation and business improvements in order to compete. Successfully navigating this changing marketplace and the complex geo-political climate requires a "techno-optimism" mentality, said Glenn Hutchins, a co-founder of North Island Ventures and a co-founder of Silver Lake, in an on-stage chat with Donovan following the AT&T executive's keynote.
"We're being asked to run faster, to do more with less, and we have to be willing to disrupt ourselves because just over the horizon are startups and people born into the new technologies and new architectures that are set on disrupting our industries," said Donovan, CEO of AT&T Communications, in his keynote this morning. "We have to be willing to disrupt ourselves before we're disrupted."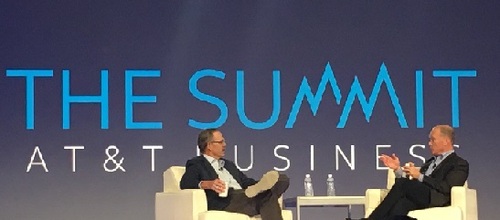 As new players disrupt the industry, existing players have to be willing to change themselves and take risks, he explained. A decade ago, innovation flowed top-down from business to consumer, but the current model has reversed since the emergence of the iPhone in 2007, said Donovan. Consumers want to participate in marketing and product development and play a larger role in driving technological innovations.
"Some of the emerging technologies that are going to disrupt all industry are around consumer services -- autonomous cars, drones, virtual and augmented reality, and all those trends that used to be business-led are now centered around the smartphone, around video and around the consumer," he said.
The industry requires a cultural change that leverages data-driven innovation, and utilizes a software, mobile and cloud-first mindset, added Donovan. As Hutchins joined Donovan on stage, Hutchins echoed the business opportunities around mobility; indeed, he said, there has never been a bigger opportunity for enterprises than with mobility since data traffic is expected to grow by 40% each year. The emergence of 5G will enable future opportunities, Hutchins added.
Innovation and investment opportunities are also growing in cloud, M2M, AI, AR and VR, he said. Although it's difficult to predict how AI and automation will affect jobs, these technologies already help workers do jobs more efficiently -- with advanced manufacturing techniques, for example, said Hutchins. The US manufactures 2.5 times more than 30 years ago, he sad.
"The problem is we employ only two thirds of the people to do that than we did 30 years ago because we've made substantial moves to higher value-add and more efficient manufacturing," Hutchins said. "In some sense that's now turning around and increasing employment. The second is... if you think about Amazon changing retailing, the jobs in the Amazon warehouses that are technologically assisted are better higher-paying jobs than the ones they're replacing in retail. We're just shifting where some of this labor happens and moving to places of higher value-add."
Globalization is another challenge enterprises face, the speakers said. Post-recession, a big concern is the current geo-political climate -- such as political uncertainties in North Korea and the Middle East -- that can impact the global economy, said Hutchins.
There are measures businesses can take to tackle these hurdles.
Encouraging future generations to take STEM courses is one step to prepare for the future and close the talent gap, said Hutchins. Another step is to reduce spending by investing in software and develop a mentality of the "techno-optimist" -- individuals with the willingness to take risks and inject new technologies into their businesses, he said.
— Kelsey Kusterer Ziser, Senior Editor, Light Reading