The cascade of changes taking place in the cable access network threatens to turn an already complex network environment into a chaotic one. But amid the push toward deeper fiber and distributed access architectures (DAA) is another trend geared toward simplifying operations. As the industry starts to virtualize network functions, it's also beginning to automate processes, and Cisco is now ready to quantify the impact of some of that automation for cable network providers.
Back in May, Cisco Systems Inc. (Nasdaq: CSCO) introduced new Remote PHY technology, including software designed to automate the configuration of Remote PHY nodes. (See The Cable DAA Vendor Race Begins.)
This week, the company appears to have branded the solution under the name Smart PHY and has introduced some return-on-investment calculations to demonstrate the software's worth.
According to Cisco, Smart PHY should lead to 64% faster turn-up of Remote PHY devices, 69% faster mean-time-to- repair, 50% fewer incidents and 10% fewer field technician hours. Cisco acknowledges that it's had to make some assumptions in its ROI model, but the company notes that it has a good sense of the processes and costs in a typical Remote PHY deployment and can extrapolate from there.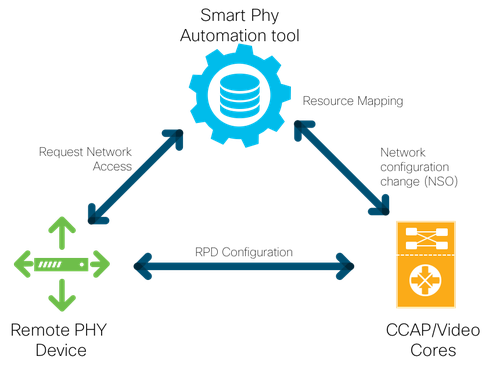 Why is Remote PHY automation potentially so powerful? As cable operators drive fiber deeper into their networks, the number of nodes -- in this case Remote PHY nodes -- they have to control is set to expand exponentially. Cisco estimates that a typical Remote PHY deployment could include between 250 and 500 nodes per Cable Modem Termination System (CMTS) core. And as the number of nodes increases, so too does the potential for error and disruption. Rather than rely on manual processes, operators can cut down on human mistakes by using software to automate node configuration, provisioning and monitoring over time.
"Two years ago you heard a lot about [software-defined networking] SDN," Cisco Fellow and CTO of Cable Access John Chapman told Light Reading in an interview earlier this year. "At the end of the day, the coolest application was automation ... And it turns out in order to scale, you have to automate. So we just see massive opportunities for automation."
---
Get real-world answers to virtualization challenges from industry leaders. Join us for the NFV & Carrier SDN event in Denver. Register now for this exclusive opportunity to learn from and network with industry experts – communications service providers get in free!
---
Cisco says its Smart PHY solution is vendor-agnostic, meaning the software should work with equipment from other vendors. And it's based on NETCONF and Yang models to ensure it will interoperate with other industry-standard network configuration technologies.
According to a survey of 35 large cable operators conducted by SNL Kagan, 17% say they are planning to start DAA deployments in 2017, with 34% committed to pursuing distributed architectures in 2018. Many early DAA implementations will be based on Remote PHY, which means Cisco is ramping up its efforts at the right time. (See Cable's DAA Moment Is Here.)
Other vendors chasing the DAA market include Arris Group Inc. (Nasdaq: ARRS), Casa Systems Inc. , Harmonic Inc. (Nasdaq: HLIT) and Nokia Corp. (NYSE: NOK).
— Mari Silbey, Senior Editor, Cable/Video, Light Reading