Google (Nasdaq: GOOG)'s open-source operating system Android is climbing the ranks at Verizon Wireless and now accounts for 80 percent of all smartphones the leading US carrier sells, with 46 percent of those coming from the Droid family.

The growth has come at the expense of BlackBerry , which has fallen from 93 percent of Verizon smartphone sales in October 2009 to just 19 percent last month.

These numbers come from sales analysis by ITG Investment Research analyst Matthew Goodman, who notes that Motorola Inc. (NYSE: MOT) is the one to thank for Android's boon at Verizon. It now accounts for 38 percent of Verizon smartphone sales, up from just 3 percent before the first Droid was launched.

BlackBerry still comes in second, followed by High Tech Computer Corp. (HTC) (Taiwan: 2498) at 18 percent, LG Electronics Inc. (London: LGLD; Korea: 6657.KS) at 14 percent, Samsung Corp. at 10 percent, and Palm Inc. at only 1 percent.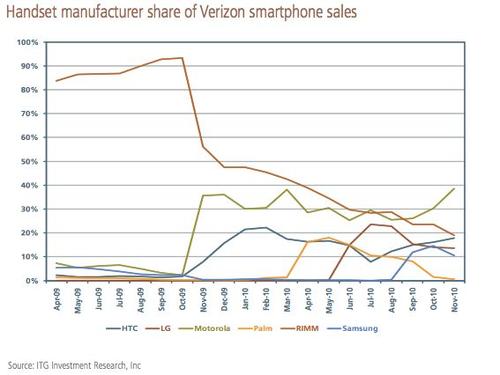 Why this matters
Verizon has become the biggest champion of Android as its largest competitor AT&T Inc. (NYSE: T) continues to coast on the iPhone's success. This dynamic is, of course, set to be shaken up when Verizon gets a CDMA version of the iPhone -- rumored to happen in the first quarter of next year. (See AT&T Drunk on iPhone Success.)

When the iPhone comes to Verizon, it will be a real test for the strength of Android versus iPhone. The iPhone at AT&T is reportedly outselling all of Verizon's smartphone sales at a rate of two to one. It's expected that a fair amount of subscribers will jump ship from AT&T to get the iPhone on Verizon, but those 80 percent of existing Verizon subs that own Android devices could dwindle as well.

It will also be interesting to see how Verizon's network fares under the strain of an army of data-hungry Androids and the formidable Apple Inc. (Nasdaq: AAPL) phone, not to mention new tablets from both camps.

Still, whatever the outcome for AT&T and Android, the biggest loser is clearly going to be RIM.

For more
For the long and sordid history of Verizon iPhone rumors and a few Android truths, check out the following stories:



— Sarah Reedy, Senior Reporter, Light Reading Mobile