With fiber rollout nearly done, Orange eyes a hands-free network
With fiber rollout nearly done, Orange eyes a hands-free network
Orange expects capital intensity to fall as it finishes deploying fiber. Next up for the French telco is a more self-driving network.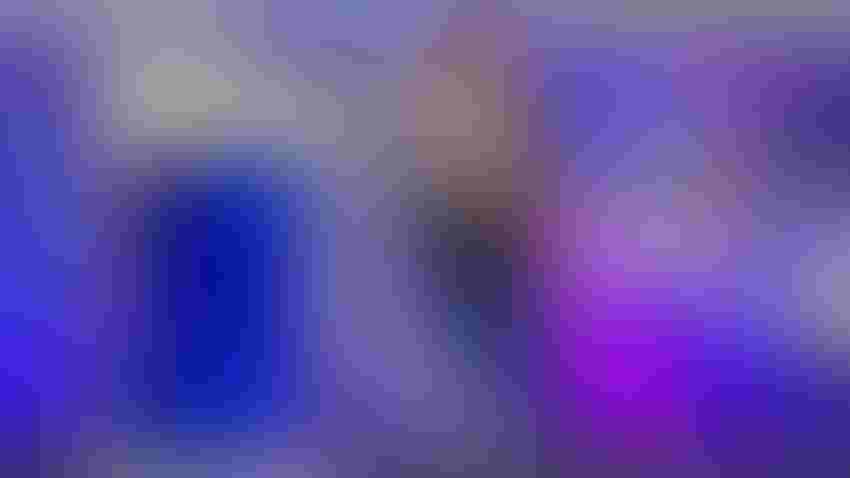 Orange's Mari-Noëlle Jégo-Laveissière presents at Informa's recent Network X event in Paris.
(Source: Kelsey Kusterer Ziser/Light Reading)
People who love cars but hate driving must look forward to the day when they can snooze, read or play games behind the wheel – if such a tool still exists – while a fully autonomous vehicle speeds them to work. Carmakers refer to this as "Level 5" autonomous driving, when a car can drive itself without any human intervention. It's a measurement system copied by the telecom industry to describe networks that can operate without people. And while Level 5 is still a far-off destination, Orange already has Level 4 in view. At that stage, the occasional steering maneuver might be needed, but the network is largely hands-free.
"Zero touch" is the terminology the industry has always preferred to describe these more extreme levels of automation, and the French telco is now trying to move two of its network processes to Level 4 as defined by the TM Forum (TMF), an industry body. "The first one is change management and the second one is network monitoring," said Arnaud Vamparys, the chief technology and information officer for Orange's European business. "We're importing some AI capabilities to move to Level 4 from a TM Forum perspective."
Given the TMF's definition, this would be a "high autonomous network" using closed-loop systems, which essentially means people are cut out of those processes. It would be able to work across different network domains, analyzing data and acting on the results. "You need to have machine learning to go to Level 4 and be a bit predictive," said Vamparys, who spoke with Light Reading at the recent Network X event in Paris.
The French operator's keen interest in automation and AI is not surprising. Networks have become extremely complicated in a world where more things are connected and more can go wrong. Deploying staff on routine activities such as fault finding and ticketing is costly and inefficient. More importantly, telcos are under growing pressure to slash expenses. For its recent third quarter, Orange reported just a 1.8% improvement in sales, to about €11 billion (US$11.7 billion), and credited efforts to reduce costs for the smaller 1.4% growth in EBITDAaL (earnings before interest, tax, depreciation and amortization after leases), its preferred measure of profitability, to about €3.6 billion ($3.8 billion).
The big investment is done
But there is some optimism within senior management ranks that Orange can boost its financial health through the deployment of new technologies. In its biggest and most important markets, it was much quicker than various regional peers to start deploying full-fiber networks. France already has 33.5 million homes that are "connectable," said Orange in last year's annual report (INSEE, France's national statistics bureau, put the number of homes nationwide at 37 million in 2020). As the pace of rollout slows, capital intensity should fall.
"It has started in France," Mari-Noëlle Jégo-Laveissière, the CEO of Orange Europe, told Light Reading. "The big investment is done for fiber." Across the European countries where Orange is active, her target is to make both fiber and 5G mobile networks available to at least 75% of the population by 2025. At the same time, Orange is now eyeing a significant reduction in near-term capital expenditure.
Group-wide, it fell 7% for the recent third quarter, to about €1.6 billion ($1.7 billion), as Orange hailed the availability of full-fiber networks to about 70 million households globally (mainly in Europe) and revealed it now serves about 15 million full-fiber customers. Availability was up 12% year-over-year, with the customer base growing 15%.
While spending will not stop when Orange hits those coverage targets, the investment will ideally shift from digging up streets to the far less costly installation of new electronics, designed to support higher-speed services in future. "The fiber technology stays there and at the ends you change the equipment from time to time," said Vamparys. All being well, the fiber should not have to be replaced for decades.
Fiber has numerous cost attractions from Orange's perspective. For a start, newer infrastructure and systems support Orange's push on automation and "virtualization," where cloud-based network software is combined with common, off-the-shelf equipment and resource sharing theoretically becomes easier. "The way we operate the network is changing," said Jégo-Laveissière. "It is more about opex. We need to move forward in that direction and increase the automation of our operations. This is absolutely key for us."
In parallel, Orange is decommissioning older, less energy-efficient copper lines and mobile technologies to save money and liberate spectrum, along with other resources. There are environmental as well as cost benefits, says Jégo-Laveissière. "We would never be able to reach ESG [environmental, social and governance] targets without 5G and fiber."
Despite investment in those technologies, energy consumption at Orange rose 4.4% last year, to about 5,594 gigawatt hours, with just 19.4% generated by renewables. Using the "location-based" methodology, which relies on data from national electricity grids, Orange produced about 1.47 million metric tons of carbon dioxide emissions in 2022, a 4% year-over-year increase. Yet it aims to be carbon neutral by 2040.
Accordingly, Orange is leaning on equipment makers to develop even more energy-efficient products. It also wants energy efficiency to be a priority in forthcoming technology standards. "5G is better than 4G, but we still need some improvement on the 5G/6G system," said Vamparys. "We need to decrease energy consumption on the mobile network side, and we are pushing our ecosystem to have better solutions."
The ongoing need for humans
Much of Orange's experimentation with new-look technologies has been focused on Pikeo, a trial deployment in the French town of Lannion. Among other things, Orange has deployed a core network there on a cloud platform built by AWS. This year, it has also started to work with AWS on the use of AI for network automation. More broadly across its footprint, it is examining how the relatively new concept of generative AI could be used in telco operations.
One obvious area for ChatGPT and its ilk is customer services, where Jégo-Laveissière says there has already been a huge change in consumer behavior. "If you look at the number of calls to call centers it has been divided by five or six," she said. "The first reason is that we have been focusing a lot on process because it is better not to have issues. Then it is more about competencies."
By that, she means equipping Orange's employees with the skills to use and develop tools like ChatGPT in future. "We are testing more and more generative AI in the customer relationship, but we are not sending anything to customers without a human checking it before," she said.
Does she envisage having a much smaller workforce as AI permeates telecom? Orange's global headcount has already shrunk by about 14,000 jobs in the last five years, roughly 9% of the total, despite a 5% increase in annual revenues between 2018 and 2022. Mundane efficiency measures have been responsible for some cuts. But retirees have not always been replaced, implying some jobs have simply become superfluous.
"It is not easy to say," said Jégo-Laveissière. Today, her chief concern is not headcount shrinkage but ensuring Orange has the talent it will need to exploit AI as that spreads throughout the workplace. What Orange calls mutualization – the sharing of resources by different parts of the company – seems critical.
"The whole network will never be able to have highly expert people in all geographies, in all countries," she said. "We need to make sure we rely on key experts that will be available. This is about cooperating within the group to make sure we benefit from the scale of the group." It may be some time before networks are driving themselves.
Subscribe and receive the latest news from the industry.
Join 62,000+ members. Yes it's completely free.
You May Also Like
---