Eurobites: Vodafone, Sky considering TalkTalk bid – report

Comment (0)
Also in today's EMEA regional roundup: Vodafone UK switches on more 5G; Telkom settles with South Africa's regulator; 40 years in fiber.
Vodafone and Sky have both been considering making an offer for UK broadband provider TalkTalk, according to a Sky News report. Sky News' sources say that TalkTalk's founder and chairman, Sir Charles Dunstone, claims the company – which was taken private in 2020 in a £1.1 billion (US$1.5 billion) deal – is now worth at least £3 billion ($3.9 billion). TalkTalk counts 4.2 million customers and 2.4 million fiber connections across the UK. (See TalkTalk to be taken private for $1.5B.)
Vodafone has switched on 5G services in 12 more UK locations, Coventry, Wigan and Watford among them. The operator plans to retire its 3G network in 2023, replacing it with a combination of beefed-up 4G and 5G services. (See Vodafone UK to start 3G shutdown in 2023 and Vodafone UK's 5G backhaul pain is getting costly.)
The Independent Communications Authority of South Africa (ICASA) has reached an out-of-court settlement with Telkom over the regulator's spectrum allocation process, which had prompted the disgruntled operator to launch a lawsuit. According to the settlement agreement, ICASA will begin licensing the spectrum that remains unassigned in the auction by no later than June 30, 2022, with the licensing process set to be concluded within ICASA's current financial year. All parties to the litigation will bear their own legal costs. (See Telkom SA persists with spectrum lawsuit and Telkom wants to stop SA spectrum auction, again.)
A number of EU mobile operators, Orange, Deutsche Telekom and Telefónica among them, have agreed to cut wholesale roaming charges and termination rates levied on their Ukrainian peer operators for a period of three months to help Ukrainian refugees keep in contact with those they have left behind. In a joint statement, the signatories expressed the hope that a "coordinated approach would minimize additional costs for both EU and Ukrainian operators, while enabling each to cover their respective costs, in order to enable as best possible communication for those fleeing the horrors of war."
UK altnet Hyperoptic has called on Ofcom, the communications regulator, to investigate above-inflation mid-contract price hikes which it says are being implemented by many major broadband providers. Hyperoptic believes Ofcom should take a closer look at industry compliance with the rules governing "price variation clauses" and consider making such price increases far more visible to customers.
One of the UK's longest serving optical communications experts has retired after more than 40 years in the business. Michael Robertson, 66, has spent four decades investigating photonics at what is now the Huawei-owned facility within the Adastral Park research complex in Ipswich. Michael graduated with a Ph.D. in Physics from Durham University in 1979, and joined the facility when it was run by the Post Office Research Centre. His colleague, Michael Hill-King, said: "[Michael] has been an inspiration to many people in the field and is respected across the UK photonics landscape. He'll be too humble to say it, but his work has benefited anyone in the UK with an Internet connection." Light Reading wishes Michael a long and happy retirement.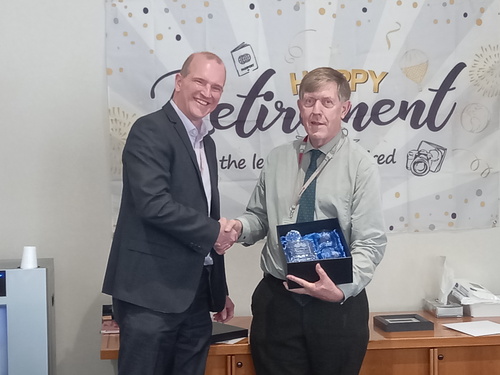 Telecom Italia (TIM) has appointed Eugenio Santagata as head of its chief public affairs and security office department. He will report directly to CEO Pietro Labriola. Santagata will continue serving in his current position as CEO of Telsy, which is part of the TIM group. He has previously held numerous senior positions within the defense sector.

— Paul Rainford, Assistant Editor, Europe, Light Reading