The industry has waited 20 years for interactive TV, but it's finally gaining some traction. In the latest iTV news, streaming company Wurl is announcing a distribution deal with Tivo to bring its interactive video network to retail and pay-TV provider set-tops. That includes more than 7 million compatible boxes, some of which will provide access to Wurl content via an app, and some of which will ultimately include the Wurl TV network as a channel in the electronic program guide.
Wurl Inc. is noteworthy for the way it creates a bridge between the linear and on-demand video worlds. When a Wurl channel is enabled, it looks just like traditional broadcast TV, but when a user tunes in to the channel, the auto-play linear content is supplemented with other on-demand programming options. (See Wurl Network Collapses VoD Into Linear TV.)
The deal with TiVo Inc. (Nasdaq: TIVO) means the Wurl TV network is automatically available on more than a million retail set-tops. However, for viewers to get access to the content on Tivo boxes leased by service providers, those operators will have to make the decision to enable Wurl as a channel. A Wurl company spokesperson says the channel is now available to more than 50 cable operators with compatible Tivo set-tops.
Video channels available through Wurl include IGN TV, Newsy, the ALT Channel, FNL Fashion, Baeble Music TV and more.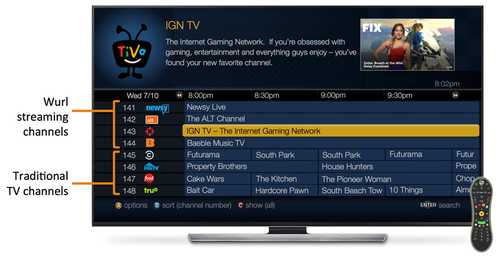 While Wurl's technical approach is compelling in its simplicity, the company still has to prove its business model can drive a profit. It aims to make money through targeted dynamic advertising, which is run though Wurl's own ad decision engine. Wurl offers to sell ad inventory for its content and operator partners, or partners can take over their own ad sales.
---
Want to learn more about what's next in the pay-TV business? Sign up now for Light Reading's Cable Next-Gen Technologies & Strategies event on March 21-22, at the Curtis Hotel in downtown Denver.
---
Wurl CEO Sean Doherty estimates that the company's addressable market includes 55 million to 60 million IP set-tops domestically, and up to 250 million worldwide. Currently, the Wurl TV network is enabled in the channel guide on about 150,000 pay-TV subscriber boxes. Those deployments are primarily on the Espial Group Inc. G4 platform with the Moxi EPG. In addition to Espial and Tivo, Wurl has also partnered with Cisco Systems Inc. (Nasdaq: CSCO), Nagra and ActiveVideo for distribution.
For the most part, Wurl hasn't released the names of operators currently offering its network content, but the company has cited Fidelity Communications in Missouri as a partner, and in 2015, Wurl announced that it was providing guide service through its technical platform to WideOpenWest Holdings LLC (WOW) . (See Wurl's AdSpring Targets OTT Ad Revenue.)
Company materials say that Wurl is also available on set-tops offered by the following service providers: Access CommunicaCons, RCN, Suddenlink, GCI, Comporium, CCI, Docomo, Eagle Broadband, Easton Cable, Ellijay Cable, MI ConnecCon, Service Electric, Shentel Cable, Summit Broadband, TDS and Wave Broadband.
— Mari Silbey, Senior Editor, Cable/Video, Light Reading