OTT TV providers continue to tack on subscribers at a rapid rate, but their grand total still represents a drop in the bucket when compared to the size of the full US pay-TV universe.
However, those drops are getting heavier and larger by the quarter.
US-based virtual multichannel video programming distributors (MVPDs) combined to add about 868,000 subscribers in Q2 2018, expanding that total to 6.73 million, up 119% year-over-year, according to a new report from Strategy Analytics Inc. based on a blend of company figures and estimates.
Traditional pay-TV providers such as AT&T Inc. (NYSE: T) (with DirecTV Now) and Dish Network LLC (Nasdaq: DISH) (with Sling TV ) are using lower-margin OTT-delivered multichannel video services to offset pay-TV losses, but the totals have not always made up the difference. While AT&T added 80,000 net video subs in Q2, Dish lost a net 151,000 in the period.
According to Strategy Analytics, the legacy pay-TV market (cable, telco TV and satellite TV) lost 3.5% of its sub base in Q2, but the overall market, aided by OTT gains, inched up by 0.5%.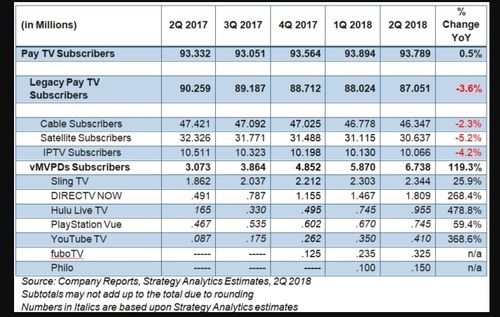 Sling TV, the service launched by Dish in February 2015, remains the largest of the virtual MVPDs despite slowing growth. DirecTV Now, which debuted in November 2016, is on pace to overtake Sling TV by early 2019, predicted Michael Goodman, director, television & media strategies, at Strategy Analytics. (See Sling TV Sputters in Q2 .)
Other big gainers from the virtual MVPD universe in Q2 included Hulu Live TV (up 478.8% ear-over-year) and YouTube TV (up 368.6%).
Despite a crowded field of OTT TV players that's fighting over a small but growing segment of the market using various slimmed-down channel packages, T-Mobile US Inc. is preparing to enter the fray later this year with its own national streaming TV service. T-Mobile intends to apply its new customer service initiative to its forthcoming OTT TV service, but has not revealed how it intends to differentiate with respect to packaging and pricing. (See T-Mobile to Play the Customer Care Card With Layer3 TV .)
Cable operators thus far have not launched national OTT services that would directly compete with other MSOs. Instead, operators such as Comcast Corp. (Nasdaq: CMCSA, CMCSK) (which does own a piece of Hulu) and Charter Communications Inc. have tried to counter the cord-cutting trend with skinny bundle TV services that are delivered in-footprint on their managed IP networks. (See Charter Dips Into Skinny TV With Stream and Comcast Reveals Instant TV & the IPTV Future.)
— Jeff Baumgartner, Senior Editor, Light Reading