Layer3 TV, which has been preparing a so-called next-generation cable television service for more than two years, may finally be ready for its coming-out party.
After missing an initial launch deadline at the end of 2015, Layer3 TV is gearing up for a "major launch event" in the near future, according to sources. Plus, thanks to combined sleuthing efforts by several reporters (this one included), new details have begun to emerge about the planned service.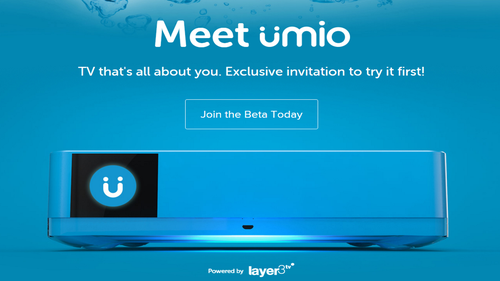 According to Variety, Layer3 TV has started testing its new service under the brand name Umio in Midland and Kingswood, Texas. A Umio.TV website doesn't confirm the Texas connection, but it does support the Umio branding conclusion with a "powered by Layer3 TV" slogan splashed across its homepage. The website goes on to offer information about what's built in to the Umio TV package. The service includes both traditional TV channels and Internet video, a multi-tuner DVR, on-demand content, support for Ultra HD/4K video and on-screen integration with social media.
Further reporting by Multichannel News suggests Layer3 may also be partnering with Suddenlink Communications for its initial rollout. The story notes that the physical address listed on the Umio website is the same address used by Cequel Communications Holdings, which was doing business as Suddenlink before Suddenlink was acquired by Altice in December. However, it's also worth noting that data center provider TierPoint also claims the same physical address as both Umio and Cequel, making the situation less clear.
The Multichannel News story adds that sources have previously said that Layer3 would seek partnerships with existing pay-TV providers.
---
Want to know more about the impact of Web services on the pay-TV sector? Check out our dedicated OTT services content channel here on Light Reading.
---
As for official information from Layer3, the company is unwilling to go on the record for now. However, Light Reading has been told that "a major launch event" is planned for the near future. (See also Layer3 TV Closes $51M, Plans 2015 Launch and Cable Vets Launch IP Video Startup.)
There are also some tantalizing details embedded within the Umio site. The Umio set-top, which was previously revealed as being made by Pace, is a massively feature-rich gateway device. It includes wired and wireless routing, storage between 1TB and 4TB, voice support (an RJ11 jack!), a speaker, a microphone, a small LED display, near-field communications (NFC) support, Bluetooth and Zigbee connectivity. A source also confirmed to us that the embedded cable modem is DOCSIS 3.0-compliant, and that the 802.11ac router offers dual-band concurrent WiFi.
The amount of functionality layered into the Umio box suggests it could be used as far more than just a TV box. The additional wireless protocols mean home automation support is likely, and a microphone and speaker point to the possibility of the device doing double duty as a conversational living room hub, much like Amazon.com Inc. (Nasdaq: AMZN)'s Echo product.
— Mari Silbey, Senior Editor, Cable/Video, Light Reading