OTT & the Net New Effect

Comment (1)
The à la carte streaming video market is on a tear, but is the trend a result of fear over cord cutting or are there new revenue opportunities in the direct-to-consumer market?
For premium programmers, over-the-top video is very much a double-edged sword. On the one hand, OTT video is creating new competitors and threatening the dearly held dual-stream revenue model that includes income both from advertising and from licensing deals with pay-TV operators. On the other hand, OTT also gives programmers a new distribution channel and a way to create new content packages that wouldn't otherwise be possible.
Speaking at Light Reading's BTE Video Summit in Chicago earlier this month, Linsey Miller, director of marketing for server acceleration products at Artesyn Embedded Technologies Inc. , acknowledged the concern that standalone streaming services are "a knee-jerk reaction to cord cutting." But she also asserted that in her experience, that assumption doesn't bear out. Instead, customers tell her that new OTT services represent net new business.
Joseph Hopkins, VP of global media and entertainment sales for Verizon Communications Inc. (NYSE: VZ), agreed. He said there's "definitely a net new aspect" that comes not only from monetizing new content, but also from generating revenue from content that's been sitting around in inventory without realizing its full potential value.
Particularly in sports, where a traditional linear channel can't show all of the footage available, and where not all channels are included in the broadest service tiers, there's an opportunity to create new revenue streams with an à la carte business model. (See Verizon Scores New OTT Content Deals.)
"There are channels that you can't get as a part of your package… that can actually be incremental business," noted Miller.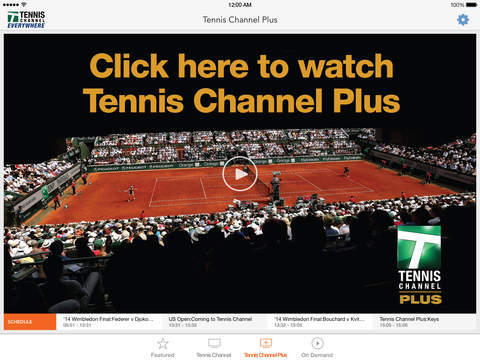 The Tennis Channel is living proof of that statement. In a recent interview, Adam Ware, SVP and head of digital for the network, detailed the success of the company's online Tennis Channel Plus product. Unlike Tennis Channel's ad-driven TV Everywhere offering, Tennis Channel Plus is an independent channel with additional content not available through the linear TV station. In only 14 months, Tennis Channel Plus has already achieved revenue totals the company wasn't expecting to reach until year four. That income is derived almost entirely from subscription fees, and it comes from a mix of annual contracts and month-to-month sign-ups.
"I was a little worried that one would cannibalize the other," said Ware, referring to the annual and monthly contract options. "That hasn't been the case. We're actually getting probably 55% of it, maybe a little bit higher, is driven by annual subscriptions."
The growth of Tennis Channel Plus hasn't been affected by cost increases either. Although the service was initially priced at $60 for a year or $10 per month, those fees have gone up to $80 and $12 respectively. Yet Ware said there's been no slowdown in service adoption.
One might conclude that the Tennis Channel is an outlier case because tennis isn't one of the top spectator sports in North America. However, the National Basketball Association just announced it plans to start offering access to individual games and single-team packages as part of its NBA League Pass service for out-of-market games. That's a huge shift from the expensive full-season bundle the NBA has traditionally sold, and it lends weight to the idea that even with basketball, there's more incremental revenue to be gained.
---
Want to know more about the impact of web services on the pay-TV sector? Check out our dedicated OTT services content channel here on Light Reading.
---
NeuLion Inc. , which powers OTT video services for the Tennis Channel, as well the NBA, NFL and several other sports leagues, believes there is still significant growth opportunity ahead.
"What I think is different this year so far is content rights being monetized both with advertising, subscription and pay-per-view… I see that trend kind of accelerating," said NeuLion EVP Chris Wagner.
New technologies are helping to smooth the way. Artesyn's Miller pointed out that GPU acceleration can support greater density in server racks, limiting the amount of equipment needed to deliver video. Likewise, virtualization can help drive costs down by allowing service providers to rely on more commodity hardware rather than special-purpose equipment.
"If the tools are available to you, and it doesn't cost you $15K or $20K to deploy an encoder … If we remove all of those barriers… [companies] can experiment with that content," added Verizon's Hopkins.
Miller said she sees opportunities not just for programmers, but also for cable companies. Despite the potential ability of content owners to do an end run around cable operators by going over the top, Miller said she doesn't think OTT "prevents cablecos from being able to evolve." (See Amdocs: Pay-TV Can Play With OTT.)
"If you can disassociate your awareness off the MSO as being tied to a cord," Miller added, "there's a path forward."
In other words, the industry doesn't have to be all or nothing when it comes to content bundling. The flexibility of the Internet appears to allow room for both.
— Mari Silbey, Senior Editor, Cable/Video, Light Reading